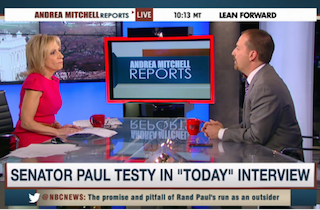 For the second time in just over two months, Sen. Rand Paul (R-KY) found himself in a combative interview with a female anchor from NBC News on Wednesday morning. And during a subsequent segment on MSNBC this afternoon, Andrea Mitchell and Chuck Todd expressed concern that it might become a pattern for the newly-announced Republican presidential candidate.
"Not a good move," Mitchell said of Paul's decision to accuse the Today show's Savannah Guthrie of "editorializing" his record. "It was a memorable interview that quickly went downhill for the newly declared presidential candidate."
Todd described Paul's tactic as a "standard trick in the playbook of some politicians" to "immediately attack the premise" of an interviewer's question if you don't like where they are heading. In the case of Guthrie, Paul did not appreciate her suggestion that he has changed positions on issues like foreign aid to Israel.
RELATED: Limbaugh Defends Rand Paul from 'Disrespectful' Savannah Guthrie
"He's got to be careful here, this is turning into a habit, particularly, this is now two prominent women interviewers, Kelly Evans of CNBC, Savannah now," Todd added. "This is a tricky place for him to be. He needs to probably watch videotape of himself."
Noting that Paul was not nearly as argumentative with Sean Hannity on Fox News the night before, Todd said, "He's trying to brush off the past as if, 'Oh, well, I was just talking. I was a private citizen saying crazy stuff. Pay no attention to what Rand Paul of 2007 said.' That isn't that long ago."
"Especially if he wants to bring up things that are 25 years old with the Clintons, he's got to be prepared to deal with things that are eight or nine years old with him," he said.
Watch video below, via MSNBC:
[Photo via screengrab]
— —
>> Follow Matt Wilstein (@TheMattWilstein) on Twitter
Have a tip we should know? tips@mediaite.com