Andrea Mitchell, Chuck Todd: White House 'Off Point,' 'Wishes They Had Yesterday Back'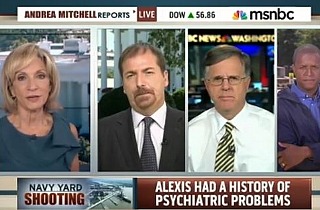 MSNBC host Andrea Mitchell and NBC News Chief White House Correspondent Chuck Todd commented on what appeared to be President Barack Obama being "off point" recently. She cited his shifting positions on intervention on Syria and yesterday's partisan speech attacking Republicans as the response to the Washington Navy Yard shooting was ongoing. Todd reported that the White House "wishes they had yesterday back."

"The White House has been significantly off point, it seems to me," Mitchell began. "The president coming out after this event with brief remarks about it, but then going into his criticisms of the Republicans over the economy on the fifth anniversary of the Lehman failure."
"It doesn't seem as though they have got their footing here, first on Syria, now on this," she continued.
"I think they wish they had yesterday back," Todd replied. "They are not saying it but you can feel it."
He said that the president's team would alter how they approached yesterday's events if they had them to do over again.
RELATED: Obama Rips GOP During Financial Collapse Anniversary Speech: 'Are They Really Willing To Hurt People?'
"It's been a rough patch for them ever since the Syria crisis," Todd said. "And it seems their timing is just a bit off."
Todd said that Obama appeared to be interested in reigniting the conversation around gun control in yesterday's remarks, but then backed off.
"I have to say there seems to be more tentativeness about pushing this — whether it's gun control advocates trying to push this conversation back in the forefront — you don't see that same amount of effort being pushed on it that you did right after Newtown," Todd observed.
Todd said he would not attribute that tentativeness to recent recall elections in Colorado, but rather to the fact that the circumstances which led to the violence in the Navy Yard are complicated and difficult to address in policy.
Watch the clip below via MSNBC:
[Photo via screen grab]
— —
> >Follow Noah Rothman (@NoahCRothman) on Twitter
Have a tip we should know? tips@mediaite.com