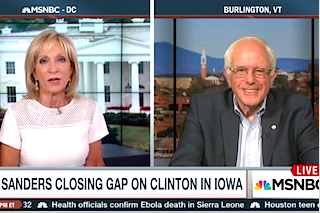 As Bernie Sanders continues to gain on Hillary Clinton in the Democratic primary polls, most recently in a new Iowa survey that finds the Vermont senator trailing the frontrunner by just seven points, the media is itching for a fight on the left to match the brutal showdown already underway on the right.
To that end, MSNBC's Andrea Mitchell spent much of her interview with Sanders on Monday trying to get him to criticize Clinton on something — anything. But Sanders managed to maintain the high ground, refusing to hit his rival on the email controversy or even a recent poll that uncovered "liar" as the word voters associate with her most.
On the Iowa numbers, Mitchell asked, "To what do you attribute this narrowing of the gap? Is this related to the email controversy and the trust factor?"
"I don't think so, Andrea," Sanders replied, bringing the discussion back to economic issues. "I think the American people want a government that represents all of us and not just Wall Street and a handful of very wealthy people."
"Now, you have resisted attacking Hillary Clinton," Mitchell observed. "Are you braced for the onslaught that could come your way from her?"
Again, Sanders steered her answer away from Clinton, instead saying, "We're going to be attacked by Corporate America. When you take on the establishment, you anticipate those attacks."
From there, Mitchell again brought up the email scandal, asking Sanders if he thinks Clinton "jeopardized national security." Sanders would only say "there is a process going on now" to determine if that is the case or not. "But this campaign that I am running, let me reiterate, is not against Hillary Clinton or anybody else," he said. "It is for an American people who are sick and tired of seeing the middle class disappear and huge numbers of people living in poverty."
Finally, Mitchell brought up Quinnipiac poll that tied Clinton to the word "liar," asking, "What is the first word that comes to mind when you think of Hillary Clinton?"
At this point, Sanders had clearly had it with this line of questioning.
"I have known Hillary Clinton for 25 years. And I know her to be a very hardworking, intelligent person, somebody I worked with in the Senate," he said. "So I am sorry, I am not going to get into the media game, Andrea, of attacking, making personal attacks, against Hillary Clinton. I just am not going to do that. I don't think that's what the American people want. I think we have got to focus on the real issues. Why is the middle class disappearing and almost all new income and wealth going to the top 1 percent? Why don't we have a trade policy that works for the American worker and not the CEOs of large corporations? Why do we have a system where families cannot afford to send their kids to college?"
"A lot of issues to talk about," Sanders added. "You'll forgive me but I'm not going to get into attacking Hillary Clinton personally."
Mitchell did not bring up her name again.
Earlier this year, Sanders faced a similar situation during an interview with CNN's Brianna Keilar, who repeatedly egged him on with opportunities to criticize Clinton until he finally replied, "Are you in the media prepared to allow us to engage in that serious debate, or do I have to get media attention on making reckless attacks on Hillary Clinton? I don't believe in that."
More than three months later, Sanders has not succumbed to this pressure and is getting more media attention than ever regardless.
Watch the full interview below, via MSNBC:
[Photo via screengrab]
— —
>> Follow Matt Wilstein (@TheMattWilstein) on Twitter
Have a tip we should know? [email protected]