Andrea Mitchell Explodes at Benghazi Committee Member: 'That Is Factually Not Correct!'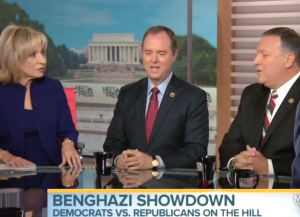 During the panel round of Meet the Press, NBC News anchor Andrea Mitchell went toe-to-toe with Benghazi Committee member Rep. Mike Pompeo (R-KS) over whether or not Hillary Clinton relied solely on the intelligence provided by former advisor Sidney Blumenthal.
Blumenthal, who testified before the committee during a closed session in June, was one of several names Mitchell brought up when she asked Pompeo and fellow Benghazi Committee member Rep. Adam Schiff (D-CA) why the report was taking so long, and why the committee was targeting seemingly political targets.
"How long for this final report?" she asked Pompeo. "Is it going to be in the middle of 2016? Is it going to be after the election?"
Chuckling, the congressman said "That's a good question, Andrea."
Schiff offered an interesting answer when he admitted to Mitchell that the committee doesn't know what they're looking for: "We can't put an end date on it because we don't know what this committee's supposed to look for. Apart from damaging Hillary Clinton, it has no reason for existence."
"Why, then, do you call Sid Blumenthal, Huma Abedin and all of these other personal aides and non-aides?" Mitchell asked. "Why have you focued so much on emails on not on the central question of why was the security [a] failure at that consulate?"
When Pompeo responded vis-à-vis Blumenthal, saying that Clinton relied on him "for most of her intelligence," Mitchell interrupted him repeatedly: "That is factually not correct… I cover the State Department. That is just factually not correct."
Check out the clip above, via NBC.
[Image via screengrab]
— —
>> Follow Andrew Husband (@AndrewHusband) on Twitter
Have a tip we should know? tips@mediaite.com