Andrea Mitchell Grills Gun Advocate Who Defends NRA Ad, Claims Media Doesn't Care About Kids Of GOP Presidents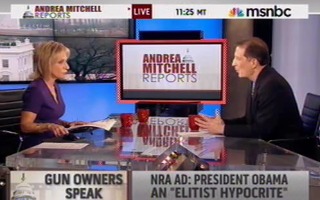 Gun Owners of America spokesperson Erich Pratt joined MSNBC host Andrea Mitchell where they got into a heated debate over a recent National Rifle Association advertisement which declared President Barack Obama was a hypocrite for pursuing new gun laws while his children were protected by armed guards. He says that the media is outraged when the children of American presidents are politicized when they are Democrats, and there is a double standard applied to the children of Republican presidents.

RELATED: Morning Joe Panelist Calls NRA Attack Ad On First Daughters 'Pornography'
Pratt began the interview by listing the findings of a recent public opinion poll which he claimed supports both his and the NRA's position on gun ownership rights.
"Let me ask you about the NRA video, the web video which targets, basically, the president's children who have Secret Service protection as all children of presidents," Mitchell interjected. "Over the line?"
"Based on this poll, he should have been apologizing to those children for breaking their piggy banks to pay off the national debt," Pratt replied.
"Apologizing to which children," Mitchell asked.
"Children that he had there on display," Pratt replied, saying that both Obama and Vice President Joe Biden's children are well protected by armed guards.
"You don't think the president's children should be off limits," Mitchell inquired.
"I think they should be protected," Pratt began. He went on to say that armed protection in schools is his preferred method for keeping children safe as, apparently, it is for the president and vice president.
Mitchell asked again if it was over the line to target the president's children in a political ad from a lobbying group.
"Why is it over the line for the NRA to talk about children, but it's not over the line for the president to bring in children?" Pratt asked. "That's the disconnect."
Mitchell replied that those children's parents brought them into this political debate voluntarily. "The children of presidents have been off limits for decades," she added.
'Unless they're, I supposed, Republican children of presidents," Pratt said. "There is a big double standards here."
Mitchell protested, saying that the twin girls of President George W. Bush were not drawn into politics. "They were hounded," Pratt replied
Watch the exchange below via MSNBC:
> >Follow Noah Rothman (@Noah_C_Rothman) on Twitter
Have a tip we should know? tips@mediaite.com