Andrea Mitchell Grills Panetta on Yemen: 'What Kind of Success Story Is This?'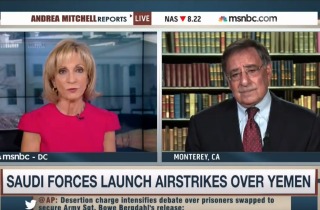 MSNBC's Andrea Mitchell grilled former Defense Secretary Leon Panetta on Thursday over President Barack Obama's claims that Yemen is an example of the success of his administration's counterterrorism policy.
The issue has received more attention as of late, after that country's president, Abdrabbuh Mansour Hadi, reportedly fled by sea yesterday. In addition, Saudi Arabia and other Arab allies have launched air strikes in Yemen to counter the Iran-backed Shia Houthi rebels who seized the capital city of Sanaa in September.
Mitchell prefaced her question to Panetta, who also served as the CIA director, by saying the U.S. withdrew special forces from Yemen who help coordinate drone strikes against terrorists there, and noting the potential for ISIS to fill a "vacuum" in Yemen. Given all of that, Mitchell asked, "what kind of success story is this?"
Panetta did not quite answer the question directly, but said the U.S. has put itself in a good position to provide military support to counter ISIS and the influence of Iran. He did concede, though, that recent events signify an obvious "setback for our counterterrorism operations." In addition, Saudi Arabia, according to Panetta, is undertaking a "worthy effort" in carrying out air strikes.
–RELATED: MSNBC Panel Presses Earnest: Shouldn't You Stop Calling Yemen a Success Story?
ABC News White House Correspondent Jonathan Karl pressed White House Press Secretary Josh Earnest on Wednesday about the same issue of whether it is still appropriate to call Yemen a "model for counterterrorism" given recent events.
Watch the video below, via MSNBC:
[Image via screengrab]
— —
>>Follow Andrew Desiderio (@forza_desiderio) on Twitter
Have a tip we should know? tips@mediaite.com