Andrea Mitchell Invents Term 'Anti-Life' While Insisting On The Decline Of The Pro-Life Movement
Armed with a new Wall Street Journal/NBC News poll that shows a narrow majority now think abortion should be legal in most cases for the first time since 1989, MSNBC anchor Andrea Mitchell continued her crusade against the term "pro-life" on Tuesday with an anti-abortion activist guest. Bouncing around from term to term, Mitchell inadvertently landed on "anti-life" to describe proponents of abortion rights — thus, Mitchell's ongoing effort to retire the term "pro-life" became a parody of itself.

RELATED: Andrea Mitchell Corrects Guest Who Called Herself 'Pro-Life': 'Anti-Abortion' Is More 'Value-Neutral'
Mitchell described her guest, Susan B. Anthony List spokesperson Marjorie Dannenfelser, "one of the leading voices in the anti-abortion rights movement." Her effort to shape the terms of the debate, a clear and consistent crusade of Mitchell's for some time, exemplified yet again in her description of Dannenfelser's ideology.
Mitchell asked about the WSJ/NBC poll which showed that 54 percent of adults surveyed said that abortion should be legal "always or most of the time." 44 percent replied that it should not be.
But the same survey could have shown that 89 percent of respondents agreed that abortion should be legal. The choices respondents were given to the question "Which comes closest to your view on abortion" were "always legal," "legal most of the time," "illegal, with exceptions" and "illegal without any exceptions." There are degrees at work here, but three of the four options allowed respondents to say they prefer some measure of legality or illegality for abortion.
Further, this same poll found that the measure of a true pro-life activist – one who supports the repeal of Roe v. Wade in order to send the issue to the states – was inconclusive. Only 18 percent supported repeal while 39 percent do not. A plurality, however, (41 percent) "Don't know enough to have opinion." This data would suggest that pro-abortion rights activists are hardly a popular front in the making.
But that is precisely the case Mitchell made. "You saw our polling where public opinion is very much moving in a different direction," Mitchell said to Dannenfelser.
Dannenfelser countered with data from Gallup – a firm that has been using a methodologically consistent poll for the last 17 years on the question of support for abortion rights. Their question is simple: "would you consider yourself to be pro-life or pro-choice?" The data is clear and not favorable to Mitchell's self-evident bias.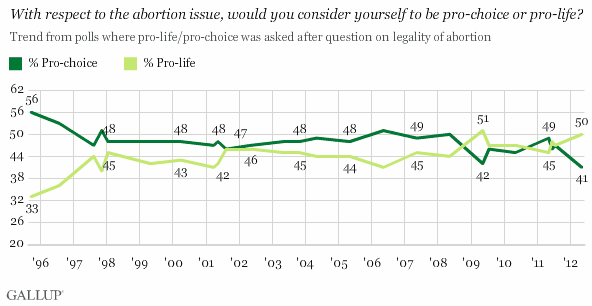 What's more, Gallup asks the legality question more succinctly. They give their respondents three choices: always legal, always illegal or legal "only under certain circumstances." Since 1975, a majority or broad pluralities have supported the third and most reasonable option.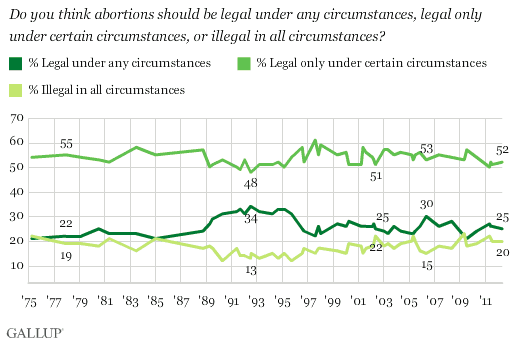 Here, Mitchell becomes vexed. It was just two weeks ago that Mitchell corrected a guest's self-description of being "pro-life" and insisted she should refer to herself as being "anti-abortion." That, Mitchell said, is a "more value-neutral" way of expressing her stance on abortion.
On Tuesday, Mitchell's crusade to change the terms of the abortion debate descended into farce. She challenged Dannenfelser's citation of Gallup's data, saying that the polling firm's methodology was unsound. "The Gallup numbers were from 2010," Mitchell claimed, erroneously (the most recent data is from a survey conducted last year). "It's when people are asked about being pro-life or anti-life… it's a different terminology and it's not as credible as our own polling," Mitchell asserted.
That is debatable, but it is a safe bet that no one has ever been asked if they were "anti-life." If they were, it is doubtful they replied in the affirmative.
Mitchell's support for abortion rights is her prerogative, just as it is her guest's to oppose those rights. But a recent turn in Mitchell's reporting has taken on the tone of transparent activism. Today, it became sloppy activism.
Watch the interview below via MSNBC:
> >Follow Noah Rothman (@NoahCRothman) on Twitter
Have a tip we should know? tips@mediaite.com