Andrea Mitchell Points Out That No ISIS Leaders, Only Members, Publicly Pray For Trump Win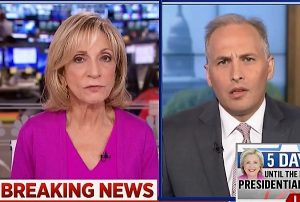 Former Secretary of State Hillary Clinton raised eyebrows earlier this month when she told an Israeli TV journalist that ISIS is praying for Republican presidential nominee Donald Trump to win in November, but Hillary explained at a press conference that she was just quoting former Director of the National Counterterrorism Center Matt Olsen, then explained it again at another press conference.
Ever the stickler for fairness, MSNBC's Andrea Mitchell pressed Matt Olsen on the issue, because, as Mitchell puts it, NBC's experts couldn't find examples of ISIS leaders rooting for Trump, only regular ISIS supporters.
Olsen responded that it wasn't just "supporters," but current ISIS members communicating on official social media channels:
Andrea Mitchell: From our experts, they have not found any instance of ISIS leadership. actually talking about Donald Trump. The supporters, yes, but not leadership.

Matt Olsen: What we saw is ISIS individuals, former members of ISIS who have been interviewed, current ISIS use of social media, on official ISIS channels, talking about the rhetoric from Donald Trump and talking about how it feeds into their message, their propaganda. That's not a surprise. This has been ISIS's playbook, that the United States is at war with Islam, and that the United States is hostile to Muslims. That's why ISIS put Donald Trump in at least two of their propaganda videos.
It was Mitchell, as well, who first asked Hillary Clinton for a response to Republican Speaker of the House Paul Ryan's demand that she apologize for saying that ISIS was rooting for Trump, which Clinton explained that she didn't actually say. Donald Trump actually did say that about Hillary Clinton, but has not yet been asked to apologize.
This is an opinion piece. The views expressed in this article are those of just the author.