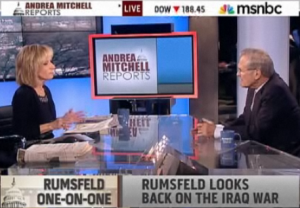 Former Secretary of Defense Donald Rumsfeld has been making the media rounds and found his toughest interrogation thus far coming from Andrea Mitchell on MSNBC. Although at times the lengthy conversation was tense, Mitchell's persistent challenging of Rumsfeld and his steadfast refusal to give any ground not only was enlightening, but also provided some amusing moments.
Rumsfeld described some of his uneasiness with Mitchell's questioning:
"You used the word, trumped up. There was nothing trumped up. Colin Powell believed every word he said. The President believed every word he said, other governments, those in Congress who looked at the intelligence believed it, and Democrats and Republicans alike."
The fun really began though around 6:45 in the first clip below when the word "stove-piping" created an awkward moment between the two. Mitchell questioned whether in the run-up to the Iraq war, a Pentagon intelligence unit was "stove-piping information?" Rumsfeld claimed he didn't know what she meant with that word. Mitchell, with a slight bit of disbelief, repeated "Mr. Secretary you know what stove-piping means . . . it was keeping intelligence information away from other units . . . and not permitting Colin Powell to know all of the factors." Rumsfeld responded that her statement was factually untrue. Mitchell cited former CIA analyst and author Tyler Drumheller as a source for the claim. Rumsfeld's comically blunt response, "never heard of him."
From there Rumsfeld also told Mitchell that she's the first one he ever heard suggest that he and Dick Cheney had an alliance against Condoleezza Rice, and to prove just how far-reaching this interview truly was, then discussed his enjoyable meeting with Elvis Presley and how he was at the side of President Gerald Ford when a shot was fired at him. Mitchell was in top form here, in her unrelenting pursuit of trying to extract new information and remorse from Rumsfeld. Although Rumsfeld ultimately was able to maneuver around having to answer anything he didn't want to disclose, here's hoping Mitchell continues to conduct such insightful and challenging examinations of her guests in the future.
Watch the interview, in two parts, from MSNBC below:

Have a tip we should know? tips@mediaite.com