Andrea Mitchell Reports President Obama 'Absolutely Committed' To Assault Weapons Ban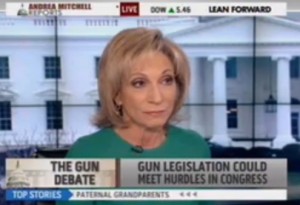 In the wake of Vice President Joe Biden's remarks following meetings with gun ownership groups and the NRA Thursday, in which he emphasized consensus on issues like background checks and high-capacity ammunition magazines, there has been widespread speculation that the package of proposals to emerge from the Biden task force might not include an assault weapons ban. On MSNBC's Andrea Mitchell Reports Friday afternoon, anchor Andrea Mitchell reported that, according to senior administration officials, President Obama is "absolutely committed" to including an assault weapons ban, as well a universal background checks, in his package of proposals.
At the top of her show, Mitchell reported that "The White House is pushing back hard on suggestions that they do not believe they can win a ban on assault weapons, and are focusing on other options. In fact, a senior administration official tells me within the hour that an assault weapons ban and background checks are both going to be in the final set of proposals that go to the president, despite all reports to the controversy."
Later in the show, while speaking with former Pennsylvania Governor Tom Ridge, Mitchell elaborated, saying that "I'm told that he will, that he is absolutely committed to the assault weapons ban, despite reports to the contrary, including what we were reporting earlier. Based on other information from White House sources, he is going to have the assault weapon ban, and he is going to have the background checks in there."
According to reports from earlier in the week, Biden's task force was considering these measures:
Sen. Dianne Feinstein's tougher ban on assault weapons and extended magazines
universal background checks for firearm buyers
national database to track the movement and sale of weapons
stronger mental health checks
penalties for carrying guns near schools or giving them to minors
changes to federal mental-health programs
However, Biden's conspicuous silence on an assault weapons  ban following yesterday's meetings led to speculation that the White House would not push the measure. Biden also said he will be delivering his recommendations to the President on Tuesday.
Have a tip we should know? tips@mediaite.com