Andrea Mitchell Suggests Anti-Women Sexism Behind U.S. Inaction on Boko Haram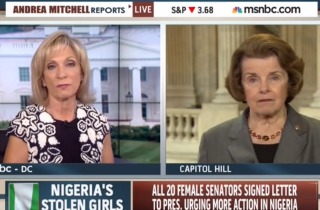 MSNBC host and NBC News' Chief Foreign Affairs Correspondent Andrea Mitchell has a theory relating to why it took the American government so long to respond to the reprehensible kidnapping of schoolgirls in Nigeria by the Islamic terrorist network Boko Haram: sexism. Naturally.
Giving this theory a test run on Wednesday in an interview with Sen. Dianne Feinstein (D-CA), Mitchell suggested that an American government, an institution run by men, was possibly more lethargic when addressing the threat Boko Haram posed to Nigerian civilians than it should have been.
"It really calls into question whether the men in charge of our government, frankly, would have been responding more quickly," Mitchell submitted, "despite Goodluck Jonathan, the president of Nigeria's opposition, whether they would have been responding more rapidly if it had been schoolgirls, if it hadn't been some other premise."
"You mean if it had involved school boys?" Feinstein said, cutting right to the meat of Mitchell's clumsy insinuation.
"No," the California senator added flatly.
"Or some other military, I guess, some other cause," Mitchell recovered. "Because it just seems that it took forever to mobilize the U.S. government even against the opposition of the Nigerian government."
The first Nigerian schoolgirls were kidnapped on April 14. From the moment they were abducted to the insertion of American military advisors in that country on May 9, it took 25 days to mobilize the American government to address the crisis in Nigeria. And that occurred only after a blitz of diplomacy aimed at forcing the recalcitrant government in Abjua to accept American aid. But Boko Haram has been active since 2003, and mercilessly violent since 2010.
For those who see sexism, racism, cisgenderism, or white privilege explaining all phenomenon, it is difficult truly to explain why the U.S. government was silent – as silent as Mitchell, in fact – when Boko Haram was slaughtering young boys with impunity. Often, those children were murdered in a horrific fashion designed to get the attention of people just like Mitchell. And, yet, they all said nothing. To accuse the U.S. government or Mitchell, however, of exhibiting anti-male bias would be intellectually vacuous.
But the MSNBC host raises a pressing question which will be asked more frequently as 2016 approaches. It is equally difficult to explain why the State Department, led by a woman, repeatedly refused to designate this group a Foreign Terrorist Organization even after the group targeted a United Nations facility with explosives in 2011. It is even more vexing to explain why Hillary Clinton's State Department dithered on Boko Haram terrorist designation when they freely listed three of the group's leaders as "specially designated global terrorists."
It's difficult to know what Mitchell was thinking here. Whatever it was, it had nothing to do with Boko Haram or the plight of those kidnapped girls and everything to do with American politics.
Watch the clip below via MSNBC:
h/t WFB
[Image via screengrab]
— —
>> Follow Noah Rothman (@NoahCRothman) on Twitter
Have a tip we should know? tips@mediaite.com