Andrea Mitchell Takes On Obama Campaign Press Sec Over Obama's Lack Of Press Availability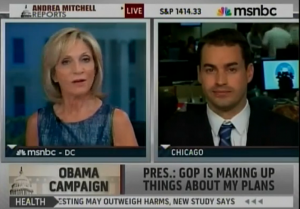 It's been about two months since President Barack Obama formally took questions from the White House press corps — and, not surprisingly, some members of the press are not happy about it. Add MSNBC's Andrea Mitchell to that list. During a segment today, Mitchell persistently questioned Obama's campaign press secretary, Ben LaBolt, about the president's lack of press availability.
RELATED: President Obama's People And Entertainment Tonight Interviews The Last Straw For Jake Tapper
Mitchell asked, "Why hasn't the president had a news conference for either the traveling press corps on the campaign or the White House press corps?" She then went on to note that Obama hasn't officially met with the White House press corps since March 6, and since then, he's only held a press conference at the G-20 in June — that was six questions. "When is he going to be accessible for questions?" she asked.
LaBolt defended Obama's reaching out to the public and the press through many "platforms":
"As you know, the President has been available for dozens of questions each week on the campaign trail. There's no doubt that the number of outlets there, and that Americans get their news from, is more diverse than it was even from four years ago. Whether it's digital platforms, local platforms, entertainment platforms, television platforms, radio platforms. He's given interviews to reach Americans where they are. The White House press corps is a part of that. He's certainly given press conferences and he'll do them again. But that's not to say that an interview in Cleveland, Ohio, with the television station there isn't just as important."
Nonetheless, Mitchell asked about the prospect of a national press conference, one that would span questions on all subjects and be held for those who cover the White House full time.
LaBolt replied, "[Obama] had a national interview on CBS just a couple weeks ago where he could be asked any question." He added:
"When he travels to Iowa, he can get a question about the drought, or wind energy, which is a critical issue there. So I don't think that, uh, I wouldn't assume that if he's in a local market that the reporters' questions will be any less serious than a member of the White House press corps."
Mitchell concluded, "I'll take that as a 'no.' Ben LaBolt, thank you very much."
RELATED: Obama Responds To Romney's Accusations Of Waging Campaign Based On 'Hatred'
Yesterday, the president did interviews with Entertainment Tonight and People magazine, which didn't sit well with all, ABC News' Jake Tapper included. Penning a blog post on the matter, Tapper said Obama "dissed" the White House press corps. Meanwhile, White House Press Secretary Jay Carney said he didn't "have any scheduling announcements to make" about a news conference any time soon.
Take a look, via MSNBC:

(H/T POLITICO)
Have a tip we should know? [email protected]