Andrea Mitchell To Ben Smith On Obama College Tapes: 'This Isn't Some Firebrand Radical'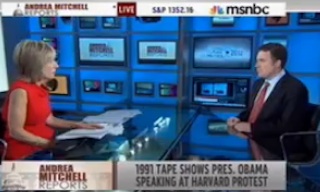 Ben Smith appeared on Andrea Mitchell Reports Wednesday to discuss a video posted on BuzzFeed from a Boston television station, which featured a young Barack Obama at "a 1991 campus protest in support of Harvard's first tenured black law professor, Derrick Bell and to 'demand tenure for minority and female law professors.'"
RELATED: Breitbart.com Editor To Release Full 'Obama College Video' On Hannity Tonight
"This is remarkable footage, we saw a snippet," Mitchell said. "We were chatting off camera about it in one of the documentaries about Barack Obama, I have never seen all of that. We know Professor Derrick Bell's fight for diversity on the faculty of Harvard Law. And this is classic Obama."
"It's kind of an amazing, interesting moment because he looks so young but he sounds exactly the same. It's a really interesting moment in his career, he'd always try to take this conciliatory middle ground, particularly around issues of race. This was a moment he couldn't there was an intense, divisive moment at Harvard where Derrick Bell was threatening to quit if they did not increase divserity in hiring and everyone had to choose to side and he ultimately chose to side with Bell and he gave this very classic Obama speech."
"And what's classic about it is it's race and gender!" Mitchell exclaimed. "It's the very issues we are talking about today, it's issues of gender that have certainly taken hold in the republican campaign and we have heard what the president said when he called Sandra Fluke and spoke out about it at his press conference."
"It gives you a sense of how adept he is at navigating these issues in public and how look he's been doing it — and how much practice he's has," Smith noted.
"And the consistency of it and this is not some firebrand radical at all in the context of the times," Mitchell observed. "He was the head of the law review and speaking out on behalf of a very distinguished professor."
"And also taking a side, and taking the left side but doing it in a way that feels very conciliatory," Smith concluded.
Not discussed was Breitbart.com's contention that the video in question has been selectively edited.
Watch below via MSNBC:

Have a tip we should know? [email protected]