Andrea Mitchell To Maddow: Press Has Done A Poor Job Of Covering The Campaign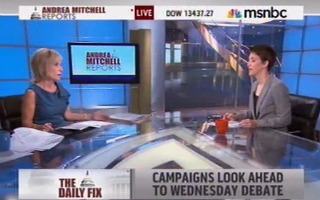 On Friday, MSNBC hosts Andrea Mitchell and Rachel Maddow offered a concise and laudable admonishment of the political media, as well as the Mitt Romney and Barack Obama, for failing to focus on issues critical to the country in favor of the "moment to moment" of the campaigns. Mitchell chastised the press for ignoring issues like veterans affairs which, as Maddow reported on Thursday, has not been squarely addressed by either presidential campaign. But that moment of clarity was immediately lost when the two pivoted to the substanceless "scandal" of Scott Brown attacking Elizabeth Warren for her supposed Cherokee ethnic heritage.
In a discussion about an investigative report that Maddow broadcast on her program on Thursday night, Maddow criticized the Romney campaign for lacking an understanding about veterans issue and having little to no policy prescriptions relating to Afghanistan.
"We need this debate as a country," said Maddow. "We're not getting the debate from the campaign, but maybe next week we will start to."
Mitchell noted that NBC News has several correspondents in the field overseas doing in depth reporting on the war in Afghanistan. "We are going to be having that debate come hell or high water," said Mitchell.
"Do you feel like those issues can be brought into the campaign or, with less than 40 days, is there no chance that we're going to get there," Maddow asked.
"I think that we have to force the issue – we in the media, as well," Mitchell replied. "We have to start talking about things other than polls, and the horserace and what's on twitter. With all due respect, that we have to get beyond the, sort of, social media content…"
"…The moment to moment stuff and get to the policy," Maddow said in agreement.
After this strong admonishment of the press for being negligent in their responsibility to keep politicians both honest and addressing the issues of substance, Mitchell and Maddow pivoted to the Massachusetts Senate race between Sen. Brown's attacks on Warren's "ethnic heritage."
To call Mitchell's moment of introspection and clarity short lived would do mayfly's a disservice. The immediate pivot to the "issue" of Warren's supposed Cherokee heritage lacks virtually every quality Mitchell had just defined as being essential to the health of the political dialogue. Self-awareness was never the press' strong suit, but this exchanged elevated the practices of navel-gazing to an art form.
Watch the segment below via MSNBC:
> >Follow Noah Rothman (@Noah_C_Rothman) on Twitter
Have a tip we should know? tips@mediaite.com