Andrea Mitchell Trashes Ted Cruz Who Was 'Dressed Down' By Dianne Feinstein: 'This Was Not A Fair Fight'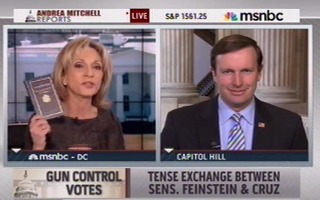 MSNBC's Andrea Mitchell scoffed at Sen. Ted Cruz (R-TX) for asking Sen. Dianne Feinstein (D-CA) on Thursday about the constitutionality of gun control proposals currently being advanced in Congress. Mitchell brandished a copy of the U.S. Constitution and slammed the junior senator from Texas for questioning Feinstein's understanding of America's founding document.

RELATED: Ted Cruz And Dianne Feinstein Battle In Explosive Debate Over Gun Control In Senate: 'I Am Not A 6th Grader'
"President [Barack] Obama is back on the Capitol today meeting with Senate Republicans," Mitchell began. "One of their freshman members, Texas Sen. Ted Cruz, was already dressed down today by Senate Democrats after he questioned the constitutionality of Dianne Feinstein's proposed assault weapons ban."
Mitchell played a clip of the explosive exchange between Cruz and Feinstein. After introducing Sen. Chris Murphy (D-CT), Mitchell produced a copy of the Constitution and said she had done her research.
"This was not a fair fight," Mitchell opined. "Ted Cruz somehow thought he was going to take on Dianne Feinstein who began her career in politics facing the bloodshed in San Francisco when she was elevated to become the mayor after the assassinations there? The personal experience of Dianne Feinstein informs this, and the personal experience of being a senator from Connecticut and representing the Newtown area as a congressman certainly informs you on this issue."
"This is not a fair fight because Ted Cruz is not going to beat Dianne Feinstein on a question of constitutionality," Murphy said. He added that it is constitutional to place limitations on the rights of Americans to own assault weapons.
Watch the clip below via MSNBC:
> >Follow Noah Rothman (@NoahCRothman) on Twitter
Have a tip we should know? tips@mediaite.com