Andrea Mitchell Visibly Shocked After Sununu Calls Obama 'Lazy,' Asks Him If He Would Take It Back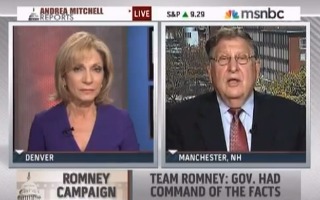 Former New Hampshire Gov. John Sununu appeared on MSNBC with Andrea Mitchell on Thursday where she asked for the surrogate's impression of Mitt Romney performed at Wednesday night's presidential debate. The conversation quickly devolved when Sununu opted to instead critique President Barack Obama's performance, calling him "lazy" and "disengaged." Mitchell was visibly taken aback by the criticisms and asked Sununu if he wanted to apologize for that remark. Sununu did not take that opportunity.
RELATED: Sarah Palin Pans Obama's Debate Performance: 'I Almost Felt Sorry' For Him
Mitchell asked Sununu how he thought Mitt Romney did in the debates, but rather than praise Romney, Sununu opted to sharply criticize President Obama's performance.
"What people saw last night, I think, was a president who revealed his incompetence – how lazy and detached he is and how he has absolutely no idea how serious the economy problems of the country are and how he has failed to even address them," said Sununu.
Mitchell gasped. "Governor, I want to give you a chance to maybe take it back. Did you really mean to call Barack Obama, the President of the United States, lazy?"
"Yes," Sununu replied without hesitation. "He didn't want to prepare for this debate. He's lazy and disengaged."
Mitchell paused again. "I think there certainly was a performance issue there and whether or not he was in his best form last night, a lot of people are questioning that," said Andrea. "But I think to call the president lazy and disengaged is another whole question."
"Whatever, Andrea," Sununu laughed. "Whatever you want."
Watch the clip via MSNBC:
> >Follow Noah Rothman (@Noah_C_Rothman) on Twitter
Have a tip we should know? tips@mediaite.com