Andrea Tantaros: Ron Paul's Newsletter Comments Are 'Despicable' And 'Disgusting'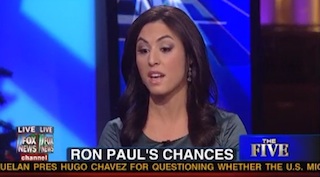 As Kimberly Guilfoyle put it in the opening of today's Five, "the knives are out for Ron Paul." With his Iowa poll numbers surging, the other GOP candidates have gone on the offensive, providing a number of colorful, anti-Paul quotes. The Five hosts had some cutting utensils of their own, discussing how Paul's less mainstream ideas were "sinking" his chances of becoming President or even getting the nomination.
The conversation started after Greg Gutfeld used one of his patented analogies to compare Mitt Romney to a can of beer (it kind of made sense in context). The conversation then turned to what alcoholic drink Paul would be. "It's crazy, whatever it is," said Eric Bolling. "It makes you crazy."
Megyn Kelly Grills Defecting Bachmann Chair Over Ron Paul Bribery Claim
The group discussed the mini-scandal over Paul snatching away Michele Bachmann's co-chair and then Andrea Tantaros brought up the whole newsletter story:
"I will also say that the controversy around these newsletters, these racist newsletters, homophobic newsletters – we haven't them a lot on The Five but I have to say, they're despicable. And a lot of people in the GOP are really turned off by it. I think it's a big problem for him too. It's not just foreign policy. The things that he says – 'Stay in the closet' to gay people – I mean, it really is disgusting and ridiculous."
Gutfeld then brought up another analogy* comparing Paul to hard candy in a dish at your grandparents' place. It's been there forever and, when you finally taste it, it's disgusting.
*I have this theory that, every morning after they settle on the show's lineup, Gutfeld then locks himself in his office and sits alone writing down hundreds and hundreds of analogies, refusing to come out till he has a thousand. I don't know if this is true, but I like to think it is.
Oh, well. At least Paul's still got the early-2000's pop star vote!
Watch the clip from Fox News below:
Have a tip we should know? tips@mediaite.com