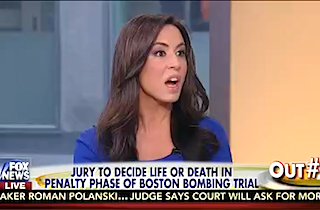 Now that a federal jury has found Boston Marathon bomber Dzhokhar Tsarnaev guilty on all 30 counts, the only question that remains is whether they will decide to give him the death penalty. That was the topic of conversation at the top of Fox News' Outnumbered on Thursday and co-host Andrea Tantaros had some interesting ideas about what might happen if they don't.
"I hope he fries," Tantaros said, admitting that it "sounds gruesome" but saying that given the "gruesome" nature of his crimes it's what he deserves. She acknowledged the concerns that he will be treated as a "martyr" by the extremist Muslim world, but had larger worries.
"Could we potentially be looking at a situation where he's traded if he is not put to death?" Tantaros asked. "ISIS and terrorist groups saying, 'Free Tsarnaev.' And then we're in a situation again where there's pressure to trade him or free him." She was referring to the Obama administration's decision to trade five Taliban detainees for Sgt. Bowe Bergdahl last year.
"I mean, no, not if he gets life [in prison] without possibility of parole," Kennedy responded, helpfully pointing out that there is a difference between someone convicted in U.S. court and those who have been held for years at Guantanamo Bay without any charges against them.
"Maybe he wants to die so that he can be a martyr and get the 72 virgins that he was promised!" Tantaros added, perhaps changing her tune a bit.
Watch video below, via Fox News:
[h/t Raw Story]
[Photo via screengrab]
— —
>> Follow Matt Wilstein (@TheMattWilstein) on Twitter
Have a tip we should know? tips@mediaite.com