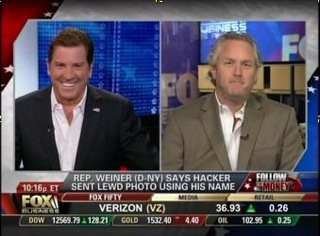 Andrew Breitbart joined Eric Bolling on tonight's Follow the Money for his take on the developing story of how a lewd photo ended up on Rep. Anthony Weiner's Twitter account Friday night. With a proper media reaction to the story as well as this evening's combative press conference from the Congressman, Breitbart had plenty to add, including increased speculation on why Rep. Weiner will neither confirm nor deny whether the photo shows him, and why some in the media has dismissed Breitbart.
Bolling opened the show by chatting with Breitbart one-on-one for a bit, where the host asked him to explain how he saw the story 72 hours after the initial break. "There are people that have been accused of a hacking," Breitbart noted, "there needs to be an investigation." He focused on the change in terminology from "hack" to "prank" and "distraction," and noted that both he and Dan Wolfe, the only Twitter user known to have retweeted the image, have now been accused of hacking, a felony. Breitbart added that Wolfe "has been an object of consternation" for some time since he has been suggesting that Rep. Weiner has relationships of an unknown sort.
Breitbart also went after CNN's Jeffrey Toobin, who lamented Breitbart's appearance on CNN. Calling him a "liberal hack," Breitbart noted that Toobin "has been involved in his own sex scandal." He also noted the connection between Rep. Weiner and Jon Stewart— they were once roommates, Breitbart claimed, citing the New York Times (Stewart later clarified this was not true, but they did share a summer house together)– and posited the question of how that compromises Daily Show coverage (which Stewart acknowledged and answered tonight).
Breitbart then joined Bolling's panel– Democratic strategist Krystal Ball, conservative commentator Andrea Tantaros, and attorney Bo Dietl— the latter two which had many, many questions of Rep. Weiner; the former, who acknowledge she had comical name problems herself, more open to accepting Rep. Weiner's explanation.
The segment via Fox Business below:

Have a tip we should know? tips@mediaite.com