Andrew Breitbart, Big Journalism's Dana Loesch To Contribute To ABC News' Election Night Coverage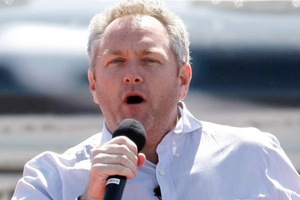 Andrew Breitbart is going mainstream. The Big site proprietor and polarizing internet mogul has been tapped to provide Election Day analysis for ABC News along with Big Hollywood editor Dana Loesch, and the amicable relationship between a major network and a major Tea Party icon has made many on the left predictably uncomfortable.
While ABC News only officially announced Loesch as a contributor, Big Journalism broke the news that Breitbart would be chiming in from Arizona, and several outlets (including Breitbart himself, on Twitter) have confirmed it. The response from Breitbart detractors, who cite the Shirley Sherrod mess, among other things, as reason to ban Breitbart from any and all media outlets, has been nearly unanimous. Media Matters, who confirmed his appearance, announced the news with a Breitbart "greatest hits" compilation of their stories on the "noted propagandist." The Daily Kos writers "thought it was a joke" until it was confirmed, to which they respond, "WTF ABC!?" Comments on Twitter, as furiously retweeted by Breitbart himself, range from the usual anti-Breitbart gay references to calling him "Baghdad Bob" to the rare but existing positive comments from liberals.
Meanwhile, Breitbart himself spent his Friday night celebrating the only way he knows how: further irritating his detractors on Twitter.

Say what you will about Breitbart, Loesch, and their respective credibility, but their appearances (alongside fiery liberal commentators like Donna Brazile and anchors who could provide balance like George Stephanopoulos have now made ABC News must-see TV next Tuesday night.
Update: ABC News has responded to the criticism, distancing themselves from Breitbart and clarifying his role:
Mr. Breitbart is not an ABC News analyst.

He is not an ABC News consultant.

He is not, in any way, affiliated with ABC News.

He is not being paid by ABC News.

He has not been asked to analyze the results of the election for ABC News. […]

He has been invited as one of several guests, from a variety of different political persuasions, to engage with a live, studio audience that will be closely following the election results and participating in an online-only discussion and debate to be moderated by David Muir and Facebook's Randi Zuckerberg on ABCNews.com and Facebook.
Have a tip we should know? tips@mediaite.com