Andrew Breitbart Co-Opts Rep. Weiner Press Conference, Takes New Photo Questions
Andrew Breitbart Co-Opts Weiner Press Conference, Takes Questions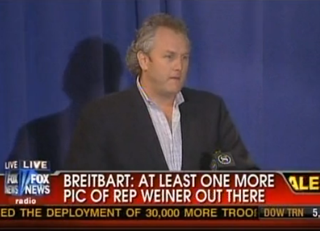 After today's startling revelations by Big Government that Rep. Anthony Weiner had sent many photos of himself in various states of undress to "a young girl," the Congressman announced a press conference to give comments on the new developments at 4 PM. Rep. Weiner didn't make it to his press conference on time, but his podium rapidly found an eager occupant: Andrew Breitbart, who held his own press conference demanding apologies and promising "at least one more" scandalous photo.
It's hard to make the story of how a lewd photo ended up in a Congressman's Twitter stream became a "hack," then a "prank," then a treasure trove of buff chests and awkward facial expressions even weirder, and yet, somehow, this happened. Breitbart, who told journalists present that he was in New York for a book event but at the conference "to be vindicated," took the stage for about ten minutes answering questions about the nature of the remaining photos to be published and understandably sending the media into a tizzy. Breitbart asked for an apology from Rep. Weiner "for him being complicit in a blame-the-messenger strategy" and noted that the pictures he has yet to release are of "an X-rated nature"– and yes, there is "at least one more picture" out there.
While the manner in which Breitbart ended up giving his own press conference is still unclear, Fox News reports that Breitbart was standing towards the back of the room before receiving many questions on the matter, so as much as we'd all love to believe it was a perfect Kanye moment in action, many questions remain to be seen as to how and why this all happened. Meanwhile, staffers reportedly ran down the halls to catch Rep. Weiner and avoid a confrontation.
The surreal news moment via Fox News below:

(
This post was originally published June 6, 2011
)
Have a tip we should know? tips@mediaite.com