Andrew Breitbart On Rep. Weiner Presser: 'I Had No Idea I Was Live On Television'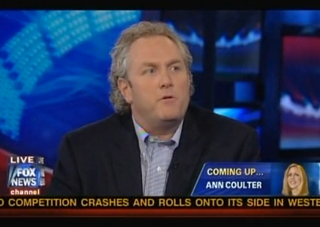 It's been a long day for the main characters in the story of Rep. Anthony Weiner and the illicit photos emanating from his Twitter account. But if anyone had as long as day as Rep. Weiner, it was Andrew Breitbart, who somehow ended up giving his own press conference directly before. On tonight's Hannity, Breitbart explained how the surreal moment came to be, and how he wasn't even aware he was on television when answering the media's questions.
"I walked into the ballroom and a gaggle of reporters surrounded me," Breitbart explained, noting that he was in New York for a book event and headed over with no intention of speaking. As time still remained for the man of the hour to arrive, and "they said they couldn't hear me," Breitbart explained, until reporter Marcia Kramer told him to get on the stage. "I had no idea I was on television," Breitbart explained earnestly, shutting down speculation that the moment was staged or in any way intended.
Breitbart also took the opportunity to apologize to his family for the stress related to the entire Rep. Weiner story– "I took away their Memorial Day weekend"– reminding them that he needed to be out in public because media rumors that he was the hacker that posted the photo "become truth even if they're not truthful" when inadequately addressed. And he had conciliatory words for Rep. Weiner, too, telling him that "I'm not enjoying the salacious aspect of this," even though "he's not going to believe me." Breitbart concluded by requesting that the media leave alone the girls coming forth talking about their exchanges with Rep. Weiner in order to discourage them from speaking: "do not go after these girls."
The segment via Fox News below:

Have a tip we should know? tips@mediaite.com