Andrew Breitbart Tells Mediaite: Howard Kurtz Has Joined The Effort To Try To "Silence Me"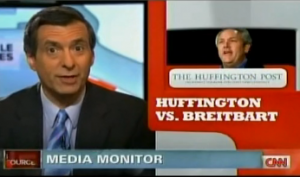 The fallout from the short-lived editorial relationship between The Huffington Post and Andrew Breitbart continues as CNN's Howard Kurtz has now stepped into the conflict. On today's Reliable Sources, Kurtz criticized Breitbart and agreed with the decision to remove him from the front page of The Huffington Post. Now Breitbart returns the favor with some criticism of Kurtz's report.
Kurtz quoted Breitbart telling The Daily Caller that the founder of Color of Change, former Obama aide Van Jones, is "a cop killer-supporting, racist, demagogic freak. And a commie. And an eco-fraudster." Then in response to this quote, Kurtz concluded:
"The Huffington Post said that Breitbart's remarks violate the tenants of debate and civil discourse. You think? I'm all for people speaking their mind, but if you want to hang out in nicer neighborhoods, you can't shout quite as loud."
In addition to the obvious disapproval of his statements to the Daily Caller, the reference to a "nicer neighborhood" does seem to carry with it an implication that the conservative websites Breitbart runs– where he normally resides– aren't as sophisticated as the left-leaning Huffington Post. A somewhat weird and possibly unintentional slam by Kurtz? Speaking to Mediaite today, Breitbart seems to find more disappointing that Kurtz "creates the false impression" that Breitbart's comment was made in response to being called a liar by Jones. Instead, Breitbart argues his thoughts on Jones were only a result of Color of Change launching a "relentless, Soros-funded, now AOL-propagated campaign to systematically kick me off of mainstream media outlets."
Breitbart tells Mediaite:
"Howard Kurtz cannot lecture people every weekend on the ethics of journalism and then fail to call me for a quote and selectively edit out the context of how Color of Change tried to silence me and get me kicked off of Huffington Post. He is tacitly endorsing an anti-free speech campaign to silence me by selectively editing out why I made my truthful criticism of Van Jones."
The successful campaign to have him removed from the prominent position on The Huffington Post left Breitbart to conclude that "AOL is now a battlefront in the progressive war to silence conservatives, Tea Party, and mainstream media critics." While Kurtz only addressed the relative civility of Breitbart's comments, others pointed out to Kurtz via Twitter other questionable language, such as Aaron Sorkin calling Sarah Palin "deranged" and a "witless bully," comments that did not get the boot from Huffington Post. So whether Kurtz likes it or not, he has entered a tough neighborhood called opinion journalism and he is probably not going to able to leave without taking a few punches.
Watch the clip from CNN below:

Have a tip we should know? tips@mediaite.com