Andrew Sullivan And S.E. Cupp Clash Over Gay Marriage, Mormonism On Real Time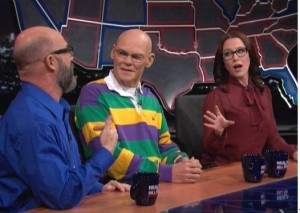 Bill Maher brought up all the big liberal victories in Tuesday's election on his show tonight, from states legalizing marijuana to gay marriage passing in a number of states. Andrew Sullivan celebrated the latter as the biggest night in U.S. history for gay marriage, but got heated with S.E. Cupp when he argued that the gay marriage victories were equally as significant for the progress of the United States as marijuana legalization. Cupp scolded him and said he shouldn't be equating two entirely different issues.


RELATED: Condoleezza Rice: GOP Sent 'Mixed Messages' About Immigration, Women's Issues
Maher summed up the election results as the U.S. becoming "more like Canada… and we still have nukes." Cupp said that a distinction should be made between pot legalization and gay marriage legalization, but Sullivan challenged her on the premise. Cupp argued that emancipation should not be equated with lifting prohibition, saying that it diminishes the gay rights fight. Sullivan angrily scolded Cupp and told her not to lecture him on how he's "diminishing the gay rights movement."
Cupp emphasized that she is on the same side of the gay marriage argument as Sullivan, but doesn't think the equation is a fair one. Sullivan told Cupp that the Republican party is controlled too much by religious organizations as opposed to political ones. Cupp told Sullivan he is sounding "crazy," and said he is "ruin[ing] the message."
Maher also found it amazing that Mitt Romney got less Mormon support than George W. Bush did, and wondered why Romney's faith was off-limits in the race. Sullivan brought up the Mormon church's history of discriminating against African-Americans and explained that there happen to be quite a number of liberal Mormons who supported Obama. James Carville and Cupp touted the historical nature of a Mormon running for president.
But Romney also lost big among single women, and Maher said that if the GOP wants to win over that voting bloc in the future, people like Todd Akin need to "shut up." Carville remarked that on election night, the entire Republican party got a painful wakeup call about social issues. When Sullivan brought up the "no exceptions for abortion" plank in the GOP platform, Cupp shot back that Romney never agreed with it to begin with.
Watch the video below, courtesy of HBO:
—–
Follow Josh Feldman on Twitter: @feldmaniac
Have a tip we should know? tips@mediaite.com
Josh Feldman - Senior Editor