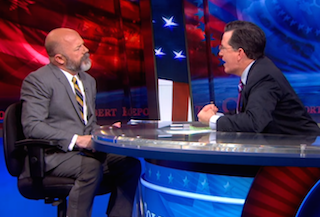 Stephen Colbert finally got around to covering the Mozilla CEO Brendan Eich resignation story last night, and to help him understand what happened — and how the gay community is feeling about it — the host invited The Daily Dish's Andrew Sullivan on The Colbert Report for a chat. Colbert introduced Sullivan as "a gay" who is "obviously in favor of firing Brendan Eich," before hearing quite the opposite from the columnist.
Much to Colbert's surprise, Sullivan mostly reiterated what he originally expressed on his website: "I actually think we've come a long way on gay rights because we've been open, tolerant, persuaded people by reason and haven't jumped down everybody's throat who's disagreed with us and get them fired. I just don't like that kind of tenor and that impulse to punish people for things they may sincerely believe."
After an extended pause, Colbert replied, "You've lost me here. Is that some kind of gay code that I'm not getting?" The host ended up in the unusual position of arguing the more "liberal" side of the debate, pushing Sullivan to explain why Eich should be allowed to both be against gay marriage and keep his job.
When Sullivan got the crowd to applaud for the idea of working with someone despite disagreements, Colbert said, "You've done something worse than make my audience gay, you've made them reasonable."
"I don't think that everybody who yesterday didn't support same-sex marriage is somehow a hateful bigot," Sullivan told Colbert. "I mean, Barack Obama changed his mind in 2009, was he a bigot? Of course not."
"No, he's a bigot now," Colbert responded, retaking his role as angry conservative.
Watch video below, via Comedy Central:
[photo via screengrab]
— —
>> Follow Matt Wilstein (@TheMattWilstein) on Twitter
Have a tip we should know? tips@mediaite.com