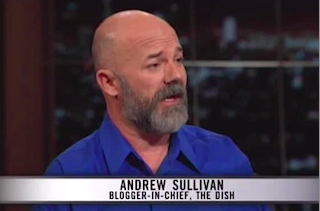 Sen. Rand Paul (R-KY) surprised Bill Maher Friday night by arguing in favor of the U.S. military's intervention in Iraq to stop the spread of ISIS. But if there was a real isolationist on the show last night, it was blogger Andrew Sullivan, who came out strongly against any action in the Middle East saying it is not America's problem.
"The head of the Joint Chiefs said it would take 80,000 troops on the ground the retake the territory if we actually wanted to defeat ISIS," Maher told his panel. "I guess my first question is, shouldn't we stop all this talk about 'we're going to militarily defeat ISIS,' because it would involve troops on the ground and we're not going to do that?"
After Jeremy Scahill the "complex landscape" of the Middle East regions controlled by ISIS, Sullivan offered his view. "Once upon a time, an American president is going to have the spine to say, 'We're not going to do anything. It's actually they're problem,'" he said.
"I agree," Maher replied. "Exactly."
"The best thing that ever happened to ISIS is Obama elevating them to this grand, global brand," Sullivan continued. He said ISIS was "completely uninterested" in the United States "until we made it our war."
Building off of Sullivan's point, Maher said, "Unless we let the Muslims have this fight amongst themselves, it's never going to work out the right way. Because as long as we're doing the fight, it doesn't have enough credibility."
"Either the Iraqis want their country together or they don't," Sullivan added. "And currently, they don't."
Watch video below, via HBO:
[Photo via screengrab]
— —
>> Follow Matt Wilstein (@TheMattWilstein) on Twitter
Have a tip we should know? tips@mediaite.com