Andrew Sullivan To Chris Matthews: Mitt Romney Is 'The Most Dreadful Candidate Since John Kerry'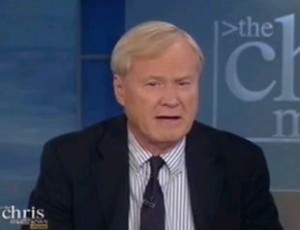 For those of you who are getting sick and tired of this long, protracted Republican fight over who gets to be the nominee, console yourselves with the fact that it will all be over soon. Maybe. Chris Matthews talked about what lies ahead for Mitt Romney in the race to face President Obama on his show today, and his main contention was that despite Newt Gingrich continuing his campaign, it's basically now a two-man race between Romney and Rick Santorum.
RELATED: Chris Matthews: Like Indian Computer Techs, GOP Is 'Outsourcing' Election 'To A Mormon'
Matthews opened the segment by playing a clip of Ronald Reagan during the 1976 presidential campaign, promising that he's in it all the way to the convention against incumbent Gerald Ford. Matthews wryly stated that Gingrich and Santorum's promise to stay in until the end make them more and more like Reagan every day. But because of Gingrich's previous losses in the South and elsewhere, Matthews stated that the election is now "really now a two-man fight between Santorum and Romney."
Katty Kay, who was on the show today, was the only person out of 12 in the "Matthews Meter" who, nine months ago, said that Santorum would end up being the true conservative alternative to Romney. She joked that it was mostly about process of elimination, and she settled on Santorum because of how well he lined up on the big conservative issues. Liz Marlantes attributed Santorum's rise and the inability of most conservatives to get excited about Romney as "buyer's remorse."
Andrew Sullivan said no matter what happens in Tampa in the summer, the Republicans can always "reset," maybe by going with a dynamic VP choice on par with Sarah Palin four years ago. But as for Romney being the nominee, Sullivan dismissed him as "the most dreadful candidate since John Kerry just in terms of ability to deliver." David Ignatius noted that as the economy improves, Romney loses his ability to deliver the powerful rhetoric on recovery.
RELATED: Matthews To Panel: Republicans Hurting Themselves 'In A Year They Should Be Winning'
All four panelists, however, predicted that no matter what happens in the primary season, at the RNC convention, there would be a first-ballot nomination and that will end it.
Watch the video below, courtesy of NBC:
Have a tip we should know? tips@mediaite.com
Josh Feldman - Senior Editor