Andrew Sullivan: 'What a Bunch of Hypocrites and Phonies' on 'Propaganda Network' MSNBC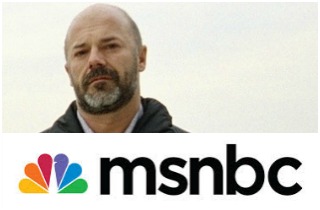 Daily Dish blogger Andrew Sullivan tore into MSNBC on his blog on Friday for hiring and promoting the actor Alec Baldwin who was again implicated in an episode in which he reportedly slung homophobic slurs at a paparazzo. While his blog referred to Baldwin as a "homophobic bigot," Sullivan spared his harshest criticisms for the network which employs him.

In a post on Baldwin's latest infraction, Sullivan opened up on the actor in no uncertain terms:
So many liberals, of course, give him a pass when they would never dream of doing so with anyone who was conservative or Republican. Even after his bigotry was on full display, MSNBC hired him for a new show as a liberal pundit. For too many of them – especially gay establishment liberals, like the tools at GLAAD or the terminally naive like Hilary Rosen – there is a glaring double standard here. It seems to me that this double standard cannot stand any more. And this raging, violent bigot cannot be defended any longer.
RELATED: Alec Baldwin Chases TMZ Paparazzo, Calls Him 'C*cksucking Fag'
But Sullivan still had more to say. In a follow up post, he went after MSNBC:
"What a bunch of hypocrites and phonies on that propaganda network," Sullivan declared. "They're almost as bad as GLAAD, which has finally – finally – criticized the bigot. But, of course, they haven't called on MSNBC to fire him."
"There will be no consequences," Sullivan lamented. "With liberal homophobes, there never are."
"If you're a conservative and are caught yelling these slurs at random people, you'd be fired pronto or buried in an avalanche of gay protest," he observed. "If you're a self-entitled liberal, you're fine."
"What, I wonder, will MSNBC's Rachel Maddow, Thomas Roberts and Jonathan Capehart say about this?" Sullivan asked in conclusion, citing the cadre of openly gay MSNBC personalities. "Nothing, I'll bet you."
As of this writing, Sullivan is correct about that.
h/t POLITICO
[Photo via BLANK ]
— —
> >Follow Noah Rothman (@NoahCRothman) on Twitter
Have a tip we should know? [email protected]