Andy Card Baffles Anderson Cooper: 'We Will Not Have A Debate Among Democrats… I Think That's Sad'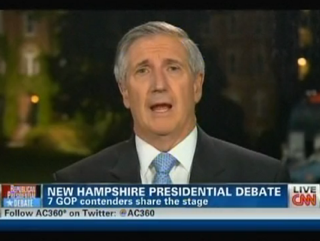 Tonight's Republican debate brought out many of the nuances between candidates, from social issues to national security. But one thing it did not do was highlight any opinions in the Democratic Party. What's more, Democrats will not stage a debate for the 2012 elections, given they have an incumbent in office. CNN political commentator Andy Card thinks this is "sad," and seemed to have a hard time understanding why Democrats won't be debating until 2016.
Card, a former White House Chief of Staff to President George W. Bush, gave Anderson Cooper a short evaluation of the debate (Herman Cain tarnished himself, while Newt Gingrich was very clear), but then lamented the lack of Democrats that seem to be discussing issues publicly. "What is missing," he explained, "is any debate among the Democrats. We will not have a debate among Democrats between now and when President Obama gets his nomination, and I think that's sad," he concluded.
Cooper, furrowing his brow, appeared confused at the fact that Card seemed not to understand that the party currently in executive power usually nominates their President without debate. "Isn't that the way things work?" Cooper asked, then trailing off with an "I mean…" After a few seconds of awkward silence, Cooper simply decided not to touch the comment and simply seek insight out elsewhere.
Since Card didn't address Cooper's confusion, or comment again in the segment, it's hard to not take his comment at face value. While, surely, a political junkie would lament the lack of any debate at any time, his comment made it seem like he expected there to be debates, which does not seem to have been an expectation manufactured out of any evidence present in reality.
The segment via CNN below:

Have a tip we should know? tips@mediaite.com