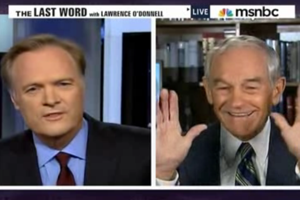 In what is unarguably the most explosive interview in the infancy of The Last Word, Republican Rep. Ron Paul had a logisitical on-air disagreement with host Lawrence O'Donnell that, while not the centerpiece of the discussion on the Tea Party, certainly colored the rest of the debate an ugly shade of contentious and uncomfortable that recalled his son Rand's debate with Rachel Maddow.
The disagreement was whether Rep. Paul expected to discuss candidates other than himself and their prospects in November. Naturally, given that the Tea Party was the topic at hand, O'Donnell questioned Rep. Paul about GOP Senate candidate Rand Paul, as well as several other nascent figureheads of the movement. Paul seemed disturbed: "one of the agreements we had when I came on your show was we weren't going to talk about other candidates, so I'm not going to talk about other candidates," he reminded O'Donnell, to which the latter appeared somewhat confused insulted. "Just a second– I wasn't part of any agreement when we came on the show," O'Donnell told him. "If someone made an agreement with you, no one said anything about it."
The interview somehow continued for a good ten minutes or so after this speed bump, but it didn't go any more smoothly. When O'Donnell snidely quipped that Rep. Paul was "obviously" against term limits for Congressmen, Rep. Paul retorted "obviously I have supported term limits," citing legislation he introduced to Congress proposing them. They then debated Medicare, which Rep. Paul supported ultimately abandoning through a transitory process to private insurance. O'Donnell pushed him on this issue as well, asking whether his support of a longer-term transition actually meant he supported the project, or at least viewed it as necessary for the nation as it currently stands.
As if the interview wasn't testy enough already, O'Donnell dared bring up the Civil Rights Act, which resulted mostly in crosstalk, the clearest portion of which was Rep. Paul's explanation that "taking over private property… is like taking over the bedrooms," and that instead of passing federal legislation, discriminatory and unconstitutional state laws should have been repealed. O'Donnell challenged Rep. Paul on his comments that the Civil Rights Act "did not improve race relations and did nothing for freedom."
The last word on this segment of The Last Word? "Check with your staff about your agreements!" Rep. Paul reminded him. "You've been very discourteous in what you have done. This is not the debate that you asked for."
MSNBC has had plenty of issues since the dawn of the Tea Party with its leaders– and right-wingers in general– attacking the network or avoiding it entirely. If a Republican like Ron Paul– who, while being the father of the Tea Party movement is still capable of drafting legislation with Rep. Alan Grayson— can't get out of an MSNBC interview without an attempted skewering, it's hard to see how they'll be able to attract any of the big names that may will office in the predicted Republican landslide this November.
The interview (and uncomfortable disagreement about contracts) via MSNBC below:

Have a tip we should know? tips@mediaite.com