Angry Sex And The City Actor Chris Noth Trashes Obama On Climate Change: We Need 'Radical Decisions Now'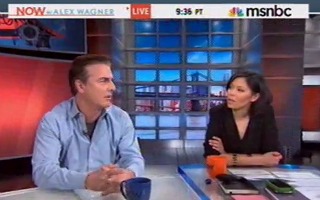 Sex And The City actor and supporter of The Rain Forrest Network, Chris Noth, joined MSNBC's Alex Wagner on Thursday where he slammed President Barack Obama for not dealing with the issue of climate change more aggressively in his first term. He went on to express reservations about how the administration appears prepared to address the issue in his second term, saying that he is unclear about why Obama is "even considering" approving new pipelines or drilling in arctic regions. "We need radical, radical decisions now," Noth urged.

RELATED: Chris Hayes Compares Climate Change To Civil War, Untapped Oil Reserves To Slaves
Wagner opened the segment by lamenting the lack of momentum that climate change regulation is enjoying in recent year, particularly since the financial collapse in 2008. "Where do you stand now in terms of optimism?" Wagner asked Noth.
"That's a word I'm a little hesitant to use, as I would be hesitant to use pessimism, because both can keep you away from the core element of taking action," Noth said. "I like the rhetoric that the president made, but it's far too little, it's far too late. There are many people who think the fingerprints of global warming are here and it's – you know – we need to make radical, radical decisions now."
Noth said that the weather is "not acting very nice" and people need to be more focused on the reasons behind severe weather events.
Noth went on to be severely critical of the president's lack of interest in climate change regulation. "I don't understand why he's even considering artic drilling," Noth said.
"He's a politician, and we shouldn't ever think he's not," Noth later advanced to excuse inaction from the president on climate change. "Nature isn't waiting. They don't care about treaties. Physics and science don't' care about treaties or laws. It's gotta happen faster and we just don't realize it." He urged the president to take action on climate change "yesterday" and not in years or even months.
"We can't leave the next generation – and our children – with this planet in disarray the way it is," Noth concluded. "We've had our day in the sun."
Watch the clip below via MSNBC:
> >Follow Noah Rothman (@NoahCRothman) on Twitter
Have a tip we should know? [email protected]