Animal Cracker: GOP Strategist Mary Matalin Calls Susan Rice 'Presidential Pet'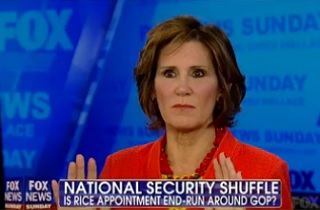 Former future Secretary of State and future former U.S. Ambassador to the United Nations Susan Rice has endured vicious attacks from Republicans since her name was first floated to replace outgoing Secretary of State Hillary Clinton, attacks which critics contend are centered on race and gender. Now that she has been named President Obama's National Security Adviser, Amb. Rice is in Republican sights once again, as longtime GOP operative Mary Matalin took a few hard shots at her on Fox News Sunday, calling Rice "inept and undistinguished," and referring to her as "the presidential pet."
When Susan Rice came under attack over her prospective nomination to state, President Obama leapt to her defense, and opined that her critics saw her as an "easy target." One of the more blunt attacks on Rice came from Senator John McCain (R-AZ), who said that the Rhodes scholar was "not very bright," among other things. Eventually, Amb. Rice withdrew herself from consideration, and then-Sen. John Kerry (D-MA) was nominated to the post.
On Sunday, Mary Matalin went a good deal further than McCain did, not only questioning Dr. Rice's qualifications and competence, but even comparing her to an animal, and a subservient animal, at that. Host Chris Wallace began by asking New York Times White House Correspondent Peter Baker if the President's "defiant" selection of Susan Rice as National Security Adviser amounted to "Mr. Obama telling Republicans you're not going push me around?"
Baker responded that the President's strategy, with regard to Senate Republicans, will be to "dare them, in effect, to reject people that he thinks are qualified."
Wallace then turned to Matalin. "I think and from long experience you would agree that sometimes, presidents need to stand up to their opponents," he said. "Was this the right time, place, and person to do it with?"
Matalin likened the President's exercise of his own constitutional authority to a Three Stooges routine, saying "This was a face-slapping, eye-gouging, patently political, counterproductive move."
"He has an inept and undistinguished National Security Adviser in the White House," she continued, "who has shown her toughness only in so far as proximity to her presidentia… she's the presidential pet, which would pit her against John Kerry, who's a serious guy."
It appears that Matalin may have been about to call Obama her "presidential master," but thought better of it, and reversed the construction. Either way, her actual statement could hardly have been more demeaning. If Republicans want to have any success at all in reaching out to women and minorities, then they ought to refrain from making cracks about them being animals.
Here's the clip, from Fox News Sunday:
Follow Tommy Christopher (@TommyXtopher) on Twitter.
(h/t Crooks and Liars)
Have a tip we should know? tips@mediaite.com