Ann Coulter And Red Eye's Bill Schulz Battle Over Papa John's Warning ObamaCare Will Raise Pizza Prices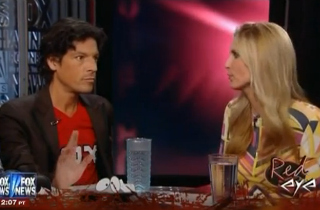 Wednesday morning's edition of Red Eye tackled the latest food-company-related political controversy, in which Papa John's CEO and founder John Schnatter warned that if President Barack Obama's Affordable Care Act (affectionately known as "ObamaCare") takes effect, the cost of his pizzas will rise an estimated "11 to 14 cents" extra to compensate for increased medical costs.
Fox News radio host John Gibson began the segment by agreeing with Schnatter, adding that "it is rising the cost of everything, it's not just pizza. Anything anybody sells in the store anyway is going to go up because every merchant will have to pay more for health care."
"How much are things going to go up?" comedian Michael Ian Black snarked. "I am nervous about this now."
Host Greg Gutfeld then asked Black if increased pizza prices could be a good thing because people will eat less of it, thereby reducing the cost of obesity.
"This is going to devastate pepperoni manufacturers," Black quipped. "Those poor pigs will probably go extinct because of this. It's a tragedy."
– RELATED: Papa John's CEO: ObamaCare Means Higher Pizza Prices
http://www.mediaite.com/online/papa-johns-ceo-obamacare-means-higher-pizza-prices/
Conservative columnist Ann Coulter then unleashed on ObamaCare:
It is not only prices are going up on everything, but there was a poll … they checked with employers… and most of them said, 'No, we're going to keep our health insurance.' But then they asked them if they understood ObamaCare, and of the employers who understood ObamaCare, 90-percent said 'No, we can't cover our employees.' So a lot of jobs will be lost, a lot of health insurance will be lost. Your insurance prices are going up along with your pizza, and your doctor is going to be the people running food service on Amtrak.
Bill Schulz then took issue with Papa John's claims, suggesting that the CEO is a notable Mitt Romney supporter and has political motivations for making such a warning. "The stuff he said in the report were all estimates and impossible to verify. and furthermore it is creepy to refer to yourself as 'Papa John.' Anyone will tell you that if I say 'Papa Bill,' that's creepy."
"Excuse me, manboy," Coulter jokingly shot back. "Who cares if he is a campaign manager for Mitt Romney?
Manifestly, prices are going up, insurance costs are going up, and your health care is going to suck."
"He gave specific prices like 50-percent for pepperonis. We don't have any way to verify this," Schulz responded.
"Who cares! This is like an MSNBC analysis," Coulter shot back. "Is it true or isn't it? It's true."
"No, we don't know if it's true… it's impossible to verify," Schulz concluded, before Gutfeld said "I'm tired of this" and moved on to another subject.
Watch the segment below, via Fox News:
— —
>> Follow Andrew Kirell (@AndrewKirell) on Twitter
Have a tip we should know? tips@mediaite.com