Coulter And Hannity Blast Obama For Response To Violence In Egypt And Libya: He Is A 'Wimp'
Coulter And Hannity Blast Obama For His Response: He Is A 'Wimp'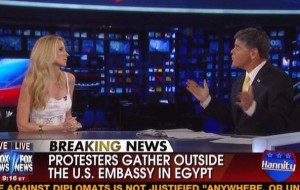 Ann Coulter appeared on Sean Hannity's show tonight to comment on President Obama's reactions to the terrorist attacks in Libya and Egypt. Coulter and Hannity agreed that Obama is "utterly naïve on foreign policy" and lacks the "courage" to stand up to Islamic extremists, while also criticizing the liberal media for being so overwhelmingly critical of Mitt Romney's comments on the attacks earlier today.
RELATED: Limbaugh: Obama's First Instinct Was To Sympathize With The Rioters In Libya, Egypt
Coulter dismissed the idea that the violence was spurred by a controversial anti-Islamic film, suggesting the 9/11 connection was more likely. She asked how anyone could think that a "revolution that looks like the L.A. riots" would lead to peaceful democracy. Coulter criticized President Obama as being "utterly naïve on foreign policy."
Hannity remarked that Obama made it seem like the events in Libya and Egypt were more like a "workplace shooting" than a terrorist attack, adding that his words make the United States look "weak." Hannity also found it bewildering that the president went to sleep last night before finding out what happened, and that today he traveled to a fundraiser in Las Vegas.
Both Hannity and Coulter criticized the Obama administration for apologizing over the attack (although the "apology" in question did not come from the White House, but rather from the U.S. embassy in Egypt). Coulter continued to criticize the attention being brought to the controversial anti-Islamic movie, and suggested that if we could get our hands on a time machine, we should go back and stop the Arab Spring before it began.
Hannity shifted the conversation to Romney's remarks and what he and Coulter agreed was a concerted attack by the media on the Republican candidate. Coulter said the media was "screaming bloody murder" only because Romney "struck gold" with his comments. Hannity praised Romney for his strong defense of the United States and promising there would be consequences. Coulter said that unlike Republicans, Democrats always "back down in the face of terrorism."
Coulter said that the United States should cut off all foreign aid to Egypt, citing the United States going into Iraq in the Bush administration as an example of "how you create a democracy in the Middle East." Hannity suggested Obama's response made him look like a "wimp."
Watch the video below, courtesy of Fox News:
Have a tip we should know? tips@mediaite.com
Josh Feldman - Senior Editor