Ann Coulter Gets Into Heated Battle On The View, Whoopi Goldberg Gets Bleeped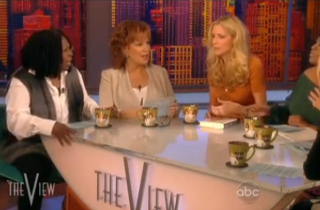 Ann Coulter's Thursday morning appearance on The View was as uncomfortably tense as one likely would expect. While discussing her new book Mugged: Racial Demagoguery from the Seventies to Obama, Coulter got into a heated tiff with all of the co-hosts (except conservative Elisabeth Hasselbeck), with Whoopi Goldberg taking the most offense, demanding that the conservative columnist explain how much she actually knows "about being black."
As Coulter began to describe her thesis that "race-mongering has been very bad for America" and white "liberals use it to promote causes that have nothing to do with blacks and, in fact, harm blacks," Goldberg interrupted her:
GOLDBERG: "Please stop, please stop. If you're going to talk about race, at least know what you're talking about.

COULTER: I write about the things I know.

GOLDBERG: Tell me how much you know about being black.

COULTER: This isn't about being black.

GOLDBERG: You just made all these statements about how black people feel.

COULTER: No, I didn't.

GOLDBERG: Yeah, you did.

COULTER: This isn't a book about black people. It's a book about white liberals.
Goldberg wasn't buying it, however, and said that "your facts are a little shaky" before expressing that she doesn't understand exactly what Coulter's point was.
The conservative author obliged and explained that, for instance, "I don't think liberals ever cared about black people. Five minutes after the Civil Rights Act of '64 passed, they start calling everything that has nothing to do with black people a 'civil rights issue.'"
This remark, of course, set off another round of chaos with all five co-hosts talking over one another. At one point, ABC bleeped out Goldberg as she seemed to call Coulter's entire thesis "bullshit" on the air.
Watch the… chaotic… segment below, via ABC:
[h/t
TheBlaze
]
— —
>> Follow Andrew Kirell (@AndrewKirell) on Twitter
Have a tip we should know? tips@mediaite.com