Ann Coulter: GOP Picking 'The Most Right Wing Candidate' In Primary Is 'Suicidal'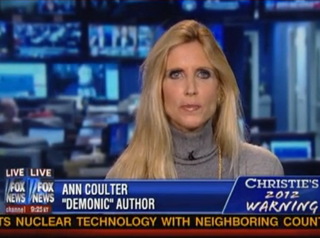 Ann Coulter's visit to Hannity today was, like many of her appearances, mainly to agree with and expand upon a point made by New Jersey Governor Chris Christie— this time, that electability was crucial in choosing a Republican candidate to face off against President Obama, and that the general election won't be easy. Speaking to host Sean Hannity, Coulter argued that, while a Ronald Reagan candidate could guarantee a victory, "Ronald Reagan is not available this year," and so Mitt Romney was the most suited to challenge the President in a debate.
RELATED: Coulter Gives Up, Endorses Mitt Romney: 'You've Got To Go With What You Have'
Coulter argued that there were two lines of thought in the Republican Party: "those who think 'oh, absolutely, this is going to be 1980; we are going to run against jimmy carter'… and then there are those of us like me and apparently Governor Christie who think this guy is going to be tough to beat." She noted that part of this was not, in her estimation, only political ability, but dirty politics, suggesting David Axelrod was behind the Herman Cain sexual harassment claims that were "coming from Chicago, a place Herman Cain has never lived." She added that "they have the mainstream media in their pockets," too, and that a candidate must be palatable to the mainstream to win. "The idea that you pick the most right-wing candidate without any concern over who can win is suicidal," she argued.
RELATED: Ann Coulter: The Liberal Media Will Stop At Nothing To Screw Up The Republican Primary
To that end, she suggested the strongest candidate was Mitt Romney, one she had not always believed to be the strongest in the field, but nonetheless supported. "I'm a little tired of these Johnny-come-lately conservative purists. Where were they when we ran John McCain?" she argued. Hannity agreed that Romney had been the most stable candidate in the polls, and had been "great in every debate," but asked where Coulter stood on Cain and Newt Gingrich. Of the latter she said she was "not a fan" and had issues with ideological inconsistency, and of Cain, she would love to see him as Vice President but "I never thought Herman Cain would be our nominee."
Ultimately, Coulter concluded, the question for Republicans was "who can you send into a debate with Barack Obama– and that is Mitt Romney."
The segment via Fox News below:

Have a tip we should know? tips@mediaite.com