Ann Coulter On Debate: Obama Looked Depressed, Could See 'Michelle Wanted To Go Home With Mitt'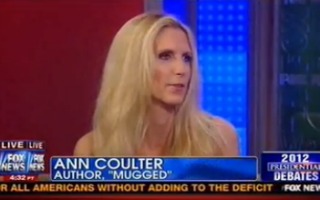 Author and pundit Ann Coulter visited the Fox & Friends set on Wednesday, where she began her analysis of the previous night's debate by saying that Barack Obama was essentially telling the American people that he didn't really want the job of president and would "rather be golfing."
Host Gretchen Carlson cut to the chase by responding that "he wants the job, ok. So what's your real analysis of what the performance was?" Coulter, a longtime Romney supporter, thought her candidate had done a magnificent job, adding that he has done so consistently.
"Proportionally," asked Brian Kilmeade, "how much do you think this has to do with Mitt Romney just bringing a good game to the table and how much is it because the President was at the Hoover Dam and visiting his headquarters and not really into preparing? […] How much did Romney win and how much did the President lose?
"It was some of both," replied Coulter, "but the fact that Obama didn't prepare, I mean, this is like him not being prepared for the attack on our consulate. He never prepares. He just expects to walk out, be cool, and get a standing ovation."
"Or is it more that you can't prepare for things that you can't defend?" asked Carlson.
"No, he was very, very bad last night," said Coulter. "He looked depressed. He looked anemic. Those big ears poking out. The first time I watched the debate, I was mostly listening to it and Romney was killing. And then I watched it again and toward the end was actually watching it and the visual made it so much worse, Obama was depressed and looking down. You could see at the end of the debate, he knew that, anniversary or not, Michelle wanted to go home with Mitt."
Hmm. Ann's presidential slashfic took a weird turn.
Check it out, via Fox News:
Have a tip we should know? tips@mediaite.com