Ann Coulter On Media's Vetting Of GOP Candidates: 'Can We Get The Ad To Find Obama's Cocaine Dealer?'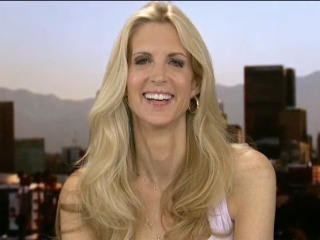 Conservative commenter Ann Coulter stopped by Fox & Friends on Sunday to discuss her latest book, Demonic: How the Liberal Mob in Endangering America< and to weigh in on the "mainstream media's" apparent obsession with GOP presidential hopeful Michele Bachmann.
Coulter started things off by noting a recent article in The New Yorker which traced Bachmann's family back to the 1800s to determine whether they had, as she claimed, settled in Iowa way back when. Contrast this to the media's coverage of Barack Obama during his first campaign for President. Coulter notes that it was mostly positive, and had nowhere near the same degree of obsessive vetting into his past or his claims.
She also made note of the ad recently taken out by a Ron Paul supporter in Texas, searching for women who may have had a sexual history with Texas governor Rick Perry. "Can we get the ad to find, you know, Obama's cocaine dealer now that he's two years into his presidency?"
Coulter also opined that candidates from the House, like Bachmann or (rumored potential hopeful) Paul Ryan didn't have a likely shot of getting into the White House, and that it was "irresponsible" to push them as front-runners.
She is, of course, holding out for New Jersey's Chris Christie — described as the hosts as "that one girl at prom who won't say yes to any of the men who ask her" — to make a grab for the nomination. And now we're going to have that mental image in our heads all day. Sorry, Chris.
For more — including Coulter's thoughts on the Verizon union protests — take a look at the clip, courtesy of Fox News:
Have a tip we should know? tips@mediaite.com