Ann Coulter On Red Eye: 'Not A Good Image' For Obama To Be Meeting With 'Young Bimbos In Hollywood'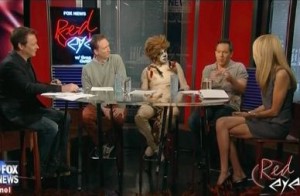 President Obama is courting both Hollywood and young voters to support him in his reelection bid, so it's pretty unsurprising that he's making a beeline for "young Hollywood." The folks over at Red Eye, including two panelists in character for some reason, had some fun with Obama for courting this particular demographic. Ann Coulter argued that it's not necessarily the image Obama would want to convey in these economic times, hanging out with "Hollywood bimbos."
RELATED: O'Reilly Panel Clashes Over Whether Celebrities Stirring Up Controversy Reflects Poorly On Obama
Andy Levy went down a list of all the celebrities who tweeted and Instagrammed (I'm still trying to come to terms with this one) their personal visits with the president. Levy asked if meeting with all these young celebrities means Obama has "locked up the hot young actor vote" or if Romney can still make a play for them. Coulter observed that most of the celebrities' tweets were to each other rather than about Obama, as if they didn't actually care that much about being in the presence of the president.
Greg Gutfeld (a.k.a. Victor Roberts, actor) observed that no two groups are more naive than Hollywood and the young, so when you mesh them together, the end result is something "exponentially stupid" or, to put it more deliciously, "a Reese's Peanut Butter Cup of really stupid people." Jonathan Hoenig, a Fox News contributor who dressed up as the spawn of a feral creature and a castmember of CATS, also said something. I think it had to do with Zach Braff. Honestly, the costume just broke my concentration.
After a brief back-and-forth over which HBO show is the East Coast version of Entourage, Levy asked Coulter if meeting with young celebrities feeds into the idea that Obama is an elitist. Coulter decidedly said no.
"I don't think it's a good image, not with the economy the way it is now. And he's hanging out with these bimbos in Hollywood? And that he's wasting time. Now not only do we have to shore off his vote in Wisconsin, but he's worried about Hollywood bimbos?"
Watch the video below, courtesy of Fox News:
Have a tip we should know? tips@mediaite.com
Josh Feldman - Senior Editor