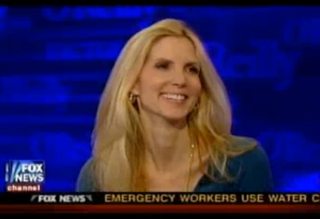 Nuclear physicist and medical expert Ann Coulter has spoken, and it turns out that a giant radioactive plume floating across the Pacific may be just what the doctor ordered for fretting California residents. On tonight's O'Reilly Factor, Coulter told host Bill O'Reilly that "radiation is good for you," and cited a number of articles in the New York Times showing radiation has a positive effect on cancer patients. Then, of course, she blamed "the media" for not covering it.
Yes, it turns out that Coulter can find it in her heart to praise the New York Times— at least for their scientific coverage. "There is a growing body of evidence that radiation in excess of what the government says is actually good for you and actually reduces cancer," she told a very skeptical O'Reilly, citing her latest column on her website as filled with evidence of this being true. Note: she is not making a political argument about nuclear energy here. She is making a medical point: that radiation is good for the human body in doses larger than what the government regulation standards currently are, not just in the small doses given in processes like chemotherapy (which no one will deny often cure cancer).
"So we should all be sunbathing," O'Reilly jokes, noting that the current giant plume of radioactive material in Japan is slated to hit the United States by the end of this week. Joking aside, he implored Coulter to be "responsible" and admit that "some radiation will kill you." She refused, possibly at last settling the debate on whether her political beliefs are based on ideology or contrarianism for its own sake, blaming "the media"– which apparently does not include the New York Times— for not reporting on the great medical uses of radiation "because it's not sensationalistic." No word on when Coulter's new line of Radithor will be released (obviously, "the media" wouldn't cover it).
The segment via Fox News below:

Have a tip we should know? tips@mediaite.com