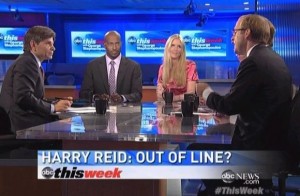 Senator Harry Reid was a major topic of discussion on the Sunday news shows today, and on ABC's This Week, the panelists mostly agreed that Reid's comments were uncalled for, but disagreed on whether Mitt Romney should release his tax returns to end the speculation. Ann Coulter argued that the whole effort is just an attempt by the Obama campaign to keep the election focus on Romney's past instead of the economic present.
RELATED: Ann Coulter To Hannity: 'I Have An Unnamed Source In Kenya Who Says That Obama Was Born In Kenya'
George Stephanopoulos asked how Reid can keep repeating the charge without having any evidence to back it up. ABC's Jonathan Karl said it was completely "outrageous," especially considering that Reid talked about it on the floor of the Senate. However, he acknowledged that no matter how much Reid is attacked by the media for his comments, it just "gets the story out there," especially when Mitt Romney personally responded.
George Will found it odd that Reid's source on the question of Romney's taxes was an investor with Bain Capital, comparing it to a Microsoft investor suddenly gaining important insight into Bill Gates' returns. Will went as far as to compare Reid to the tactics of Joe McCarthy. Steve Rattner agreed with Will, but questioned why Romney has not already just released his tax returns and put the whole thing to bed already.
Coulter said Romney should not bother releasing more tax returns, saying that the two years he has already released are enough. She said that going after something in a political opponent's past was President Obama's "modus operandi," and said the whole issue of releasing the tax returns is just "dirty politics" on the part of the Obama campaign.
Watch the video below, courtesy of ABC:
Have a tip we should know? tips@mediaite.com
Josh Feldman - Senior Editor