Ann Coulter Rails Against Chris Christie & Rand Paul For Their 'Little Bitch Fight'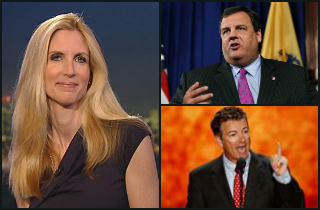 According to Ann Coulter, the ongoing feud between Sen. Rand Paul (R-KY) and Gov. Chris Christie (R-NJ) is nothing more than a "little bitch fight" designed to distract from a Christie-appointed senator's vote in favor of "amnesty" for illegal immigrants.
Speaking with Sean Hannity on his radio show Thursday afternoon, Coulter was frank in her disdain of the high-profile battle between the two Republicans: "The reason Chris Christie started this little bitch fight is to distract from the fact that he had his Senate nominee [Jeffrey Chiesa] vote for amnesty," she said.
"I'm just pointing out that's what the bitch fight is about, so don't fall for It," she warned, adding that Sen. Marco Rubio has acted similarly by talking up his anti-abortion stance in order to "distract" from his support of "amnesty" measures.
Sen. Paul and Gov. Christie have been in a war of words for nearly a week now, after the governor called the Kentucky senator's strand of "libertarianism" to be "dangerous thought." Since then, the pair have exchanged various insults on each other's foreign policy beliefs and spending records.
Hannity chided Coulter for saying "bitch fight" on his air, but she pressed on: "Whenever Chris Christie starts talking about this whatever, this snit with Rand Paul, this is just a distraction. Just ask him why he had his temporary Senate nominee vote to bring in 30 million more Democratic voters. Thanks, Chris Christie."
Listen below:
[h/t
MofoPolitics
]
— —
>> Follow Andrew Kirell (@AndrewKirell) on Twitter
Have a tip we should know? tips@mediaite.com