Ann Coulter Rails Against Liberals' Race-Baiting 'White Guilt' Narrative On Hannity
Coulter Rails Against Liberals' Race-Baiting 'White Guilt' Narrative On
Hannity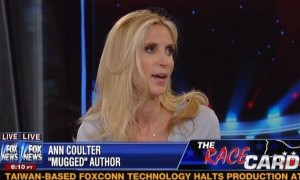 On his show Monday night, Sean Hannity spoke with Ann Coulter about the racism and the narrative she said the media is pushing in order to avoid discussing difficult issues. Everyone would be better off without "white guilt," Coulter argued — decrying that all liberals want to talk about is racism.
Rattling off a list of foreign policy concerns, Hannity noted that Democrats aren't talking about any of those issues, "because all they can do is accuse Republicans of racism." We've gotten to a point where everything is deemed racist, he and Coulter agreed. At that point, he aired a montage of "Democrats playing the issue hard."
These "tactics," Hannity said — citing "class warfare," "scaring granny" and the "race card" — are proving effective to a certain extent.
That's because Democrats are "demagogues," Coulter argued, "always appealing to a mob, ginning people up with lies and anger." She then went on to recap some history, including remarking that the Ku Klux Klan was an outgrowth of the Democratic Party.
The O.J. Simpson verdict was what "set America free," she said, touting Rudy Guiliani's record as mayor in New York City. He enforced "sane" criminal laws that saved black lives, not caring that he was called a racist, she said.
"White guilt has produced mistake after mistake, including the 2008 election when more whites voted for Obama than voted for a democrat for a decade," Coulter said.
Dissent used to be patriotic, and now it's considered racist, Hannity remarked. To that point, Coulter argued, "Everyone, blacks especially, are better off when the white guilt bank is shut down, as it was for more than a decade after the O.J. verdict. And liberals kept trying to push the racial narrative in their newspapers and TV. Americans weren't buying it."
Segueing back to discussion about the current campaign cycle, Coulter noted that the media is in "war mode" — which is why, instead of discussing the turmoil in the Middle East, "all they're talking about is racism."
The segment below, via Fox News:

Have a tip we should know? tips@mediaite.com