Ann Coulter Reacts To Her View Appearance, Spars With Juan Williams On Hannity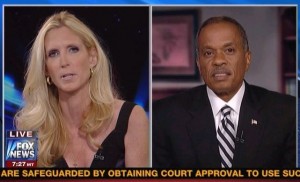 Fresh off her appearance this morning on The View, Ann Coulter appeared on Sean Hannity's show tonight to expand upon the point she made on the daytime show that the Democrats have not, historically, been the party championing minorities and civil rights. Williams got heated with Hannity and Coulter when he disputed their opinion that the Obama campaign has been playing the race card against the Romney campaign.
RELATED: Ann Coulter Gets Into Heated Battle On The View, Whoopi Goldberg Gets Bleeped
Coulter admitted that she enjoyed her View appearance, saying that the hosts believe the "myths" she dispels in her newest book. Hannity said that the Democrats and the media have created a "false narrative" about conservative racism. Juan Williams partly agreed with them, pointing to anti-discrimation laws pushed by Republicans and GOP support of the 1964 Civil Rights Act.
Hannity asked why, then, the Democrats always play the race card against the GOP. Williams disputed that the Obama campaign was not engaging in that tactic, which Hannity disputed by pointing to Joe Biden's "chains" remark. Williams said that some of the rhetoric used by Republicans against President Obama, like referring to him as the "food stamp president," have racial undertones to them.
In the next segment, Hannity played a video of a black Obama supporter saying she will support the president because his campaign gave her a phone. Hannity argued that she has an "entitlement mindset" that transcends race, that Obama is going to give people whatever they want. Coulter insisted that Democratic policies negatively impact black people, but the party does not care so long as they continue to get the majority of the black vote.
Watch the video below, courtesy of Fox News:
—–
Follow Josh Feldman on Twitter: @feldmaniac
Have a tip we should know? [email protected]
Josh Feldman - Senior Editor