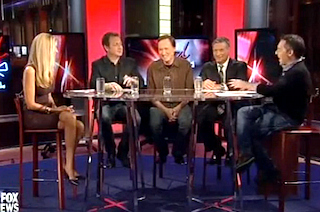 Saturday night's Red Eye panel had loads of fun over Matt Damon's comment that "Barack Obama broke up with me," joking that Obama's Friday press conference was called merely to answer Damon's concerns and perhaps keep him from going back to Ben Affleck.
"This was an apt metaphor when he talks about a breakup, because all along for Hollywood, this has been a romance," comedian Tom Shillue said. "They are in love with Obama, so when he doesn't do what they wants, it is like a breakup."
"But he's having a romance with them, too," Ann Coulter said. "When he has important policies to discuss, he goes on Leno. He's seen Matt Damon's movie. And when Matt Damon insults him, he insults him back. That's crazy!" Coulter said, referring to the 2011 White House Correspondents Dinner when Obama reserved a barb for Matt Damon's performance in The Adjustment Bureau. "This is a guy who goes to talk about serious policy issues like the NSA and Russia on the Jay Leno Show and now he's getting in this Mean Girls spat with Matt Damon!"
"Harry Reid came out on Friday, and said something about how he hopes the tea party's opposition to Obama isn't because he's black," said Andy Levy. "I feel kind of the same way for Matt Damon. I'm worried that he's disappointed in Obama because he's black. He questions the legality of some of the president's actons. Really, Matt? Because he's a black president, he's doing illegal stuff because he's black? The dog whistles have got to stop."
Watch the full clip below, via Fox News:
————
>> Follow Evan McMurry (@evanmcmurry) on Twitter
Image via Fox.
Have a tip we should know? tips@mediaite.com