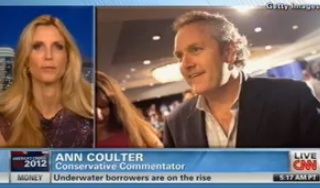 The sometimes-acerbic Conservative icon Ann Coulter was a guest on Soledad O'Brien's Starting Point Friday morning, and wistfully discussed the wide-reaching legacy of Andrew Breitbart.
"It's very sad," Coulter acknowledged. "It's got to be very quiet in the Breitbart household these days. He was, from what I saw, a fantastic father. He was a kid himself. I remember when he was showing me his kids, two boys, shared a room, it was sort of a trundle bed. And normally parents are trying to get the kids to stop jumping on the bed and Andrew ran into the room and showed me, look, you can jump from the top bed down to this bed!"
O'Brien asked Coulter about the effect Breitbart on people — even those who didn't agree with him. She referenced a story in the Hollywood Reporter that recounted Breitbart's last hours — talking to a stranger in a bar about politics.
"This was so Andrew, was that it was just a complete stranger he started talking to in a bar. He was like that. If you were within 50 yards of him he just had a gravitational force that people wanted to be with him. He was such a raconteur. He ended up with crowds around him. He'd leave with 20 friends."
O'Brien questioned Coulter about the legacy he was leaving behind
"It was so huge. There is no one like Andrew Breitbart," Coulter reflected. "When Matt Drudge first got a computer, Andrew at some point, you know, was helping him see how to use it. There's the Drudge Report…. Then Andrew goes on to start up the Huffington Post. He found Greg Gutfeld and kind of pushed him on Fox News for the great show Red Eye now…I mean, the influence he had on friends and connecting people, seeing connections. He was the glue and the energy behind so much of the right wing. There is just no one like Andrew Breitbart."
Watch Coulter remember Breitbart below via CNN:
Have a tip we should know? tips@mediaite.com