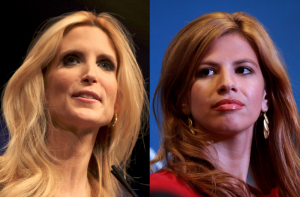 Ann Coulter is not one to shy away from stealing a few headlines herself in this 2016 election, and has let her support for controversial Republican frontrunner Donald J. Trump be widely known. Coulter has slammed media outlets for what she deems as unfair coverage of her candidate of choice, and she has unsurprisingly sided with campaign manager Corey Lewandowski in the ongoing Grab-Gate saga.
Lewandowski was charged — though will not be prosecuted — for battery against former Breitbart reporter Michelle Fields. The two clashed at a Florida Trump event and Fields took to Twitter to show bruises on her arm from where she claims Lewandowski grabbed her and nearly threw her to the ground.
After it was announced yesterday that Lewandoswki would not be prosecuted by Palm Beach County police, Fields noted on Twitter that the option for an apology was once discussed, although she hasn't "heard back about it":
For those asking, office of prosecutor asked 2 weeks ago if I'd be ok with an apology from Corey. I said ya but haven't heard back about it

— Michelle Fields (@MichelleFields) April 14, 2016
This morning Coulter sarcastically fired back at Fields in defense of Lewandowski and the Trump campaign, remarking that it is Fields who should consider issuing an apology:
We're a forgiving ppl and the minute former reporter Michelle Fields apologizes, we should warmly accept it. https://t.co/bOSPaT4gYT

— Ann Coulter (@AnnCoulter) April 14, 2016
Coulter has previously identified the real estate mogul as "the victim, not the victimizer" in the situation, and further slammed Fields by outright declaring that she had been untruthful about the situation at Trump's Mar-a-Lago resort. "It's quite clear she's lying," Coulter recently told MSNBC's Chris Matthews.
Several weeks ago, Coulter brutally mocked Fields' situation again, bashing the so-called "safe space" that even conservative reporters are apparently in need of:
Like Americans everywhere, I know I'll always remember where I was when news arrived of the tragic assault on Michelle Fields.

— Ann Coulter (@AnnCoulter) March 29, 2016
Whatever your politics, whatever your ethnicity or religion, please take a moment to pray for the recovery of brave Michelle Fields.

— Ann Coulter (@AnnCoulter) March 29, 2016
All respect to Harriet Tubman, but it's Michelle Fields who should go on the $20 bill. Her courage will inspire generations yet unborn.

— Ann Coulter (@AnnCoulter) March 29, 2016
Fields, who vacated from her position at Breitbart after the ordeal, is reportedly now planning a civil case against Lewandowski for defamation, calling into question a series of tweets that the campaign manager sent last month. Lewandowski identified Fields as an "attention seeker," further writing "you are totally delusional. I never touched you. As a matter of fact, I have never even met you."
Video has since surfaced of the altercation, indicating that in fact Lewandowski did appear to grab Fields on the night of March 8.
[images via Wikipedia Commons]
—
J.D. Durkin (@jiveDurkey) is a columnist at Mediaite.
Have a tip we should know? tips@mediaite.com