Ann Coulter: Syria Shows 'You Cannot Trust Democrats to Be Commander-in-Chief'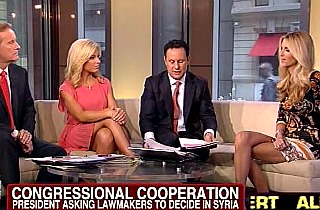 Conservative columnist Ann Coulter joined the hosts of Fox & Friends on Tuesday to discuss the developments over the holiday weekend as President Barack Obama makes the case for military intervention in the Syrian civil war. Coulter attacked the president and Democrats in general who she said are rarely capable of serving as a competent commander-in-chief. She also said that Democratic opposition to the Iraq war and support for Syrian intervention was hypocritical.

RELATED: Sens. McCain and Graham Deliver Remarks After WH Meeting on Syria
"What Republicans ought to be able to vote on in Congress is whether they can invent a time machine, go back and not have Obama issue an ultimatum on chemical weapons," Coulter said of the push for a vote on intervention in Congress.
"I'm really enjoying seeing all these liberals, the utter, utter blinding hypocrisy of them complain being this chemical weapons attack," she continued saying that Saddam Hussein's chemical attack or Rwandan genocide both represent more troubling humanitarian abuses than what is happening in Syria.
Brian Kilmeade asked Coulter about former White House advisor David Axelrod saying Obama had "turned the tables on Republicans" with his Syria strategy. "Does that show that this is political when Axelrod makes that statement?" Kilmeade asked.
"This is just a political game for them," Coulter agreed. "You cannot trust Democrats with — to be commander in chief. Americans remember that when you vote for a president; they cannot take national security seriously, we do not intervene in countries to make America safer."
Watch the clip below via Fox News Channel:
—
> >Follow Noah Rothman (@NoahCRothman) on Twitter
Have a tip we should know? tips@mediaite.com