Ann Coulter Takes On The GOP, 'Depressing' Obama, Embraces 'Magnificent' Dr. Carson
Coulter Takes On The GOP, 'Depressing' Obama, Embraces 'Magnificent' Dr. Carson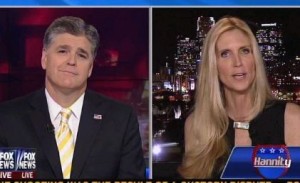 Sean Hannity welcomed Ann Coulter on his Fox News show Monday night to discuss a host of issues ahead of President Obama's State of the Union address Monday night. During their wide-ranging segment together, Coulter seemed sick of talking about President Obama and only got really animated when Hannity brought up Dr. Benjamin Carson.
After a playing a clip from Sen. Lindsey Graham's Face The Nation interview on Benghazi from Sunday, Hannity asked Coulter for her reaction to the "new information" that continues to come out and how it will affect his votes on Chuck Hagel and John Brennan.
"On one hand it kind of depresses me to keep going through what a shocking outrage Benghazi was because anyone who cared knew about it before the election and still Obama was reelected," Coulter said. "On the other hand, this is new information, the media was desperately trying to make sure Obama got reelected." Referring to the revelations that came out in outgoing Defense Secretary Leon Panetta's testimory, she added, "it really is so much more shocking than anything that happened in the Bush administration."
Moving on the domestic issues, Coulter said that conservatives are "winning on guns" and "amnesty for illegals" and predicted that Republicans will hold the House and possibly pick up the Senate.
When Hannity brought up his interview with Dr. Carson, the conservative neurosurgeon who "confronted" President Obama at the National Prayer Breakfast last week, Coulter really perked up, calling him "magnificent" and excitedly talking about his "pure common sense" and "rejections of political correctness."
Coulter's big piece of advice for Republicans was not to underestimate Obama's likability. "For some reason Obama is personally appealing," she said. You don't see it, but he is charming, people like him. That's not transferable to Joe Biden. That's not transferable to Hillary Clinton. When you take it down issue by issue — like on guns, like on amnesty, like on raising taxes, the size of government, the deficit — that's where Republicans win and that's what we should be talking about."
Watch video below, via Fox News:
—
>> Follow Matt Wilstein (@TheMattWilstein) on Twitter
Have a tip we should know? tips@mediaite.com