Ann Coulter Talks Libya On Hannity: Liberals Never Blame The Jihadists, But 'Always Some Hick American'
Coulter: Liberals Never Blame The Jihadists, But 'Always Some Hick American'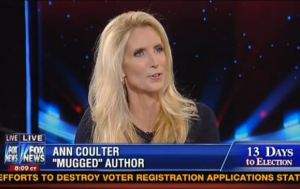 On his show Wednesday night, Sean Hannity invited Ann Coulter to discuss the developments in the Libya story. They both agreed that the administration has been deceitful and knew the involvement of extremists all along. But liberals simply don't blame the jihadists themselves, Coulter said. (…And then they talked about Donald Trump.)
The proof about Benghazi is in, Hannity said. So why are the president and his administration lying?
Coulter argued it's becoming clearer that Obama "is in way over his head." Just him being in the White House wasn't going to make the world love us, she said. As for the Osama bin Laden "hysteria," Coulter said the one man isn't all he's being chalked up to be. His death is going to "make the terrorist lay down their arms and love America," she said. It's a positive thing that he was killed, she said, but it's not just about the one man.
Getting back to the Libya attack, Hannity noted Obama's response — prompting Coulter to add, "It's part of the liberal outlook here, that they never will blame the jihadists themselves. It's always some hick American to blame. It's the pastor down in Florida, it's the guy who makes the movie trailer out in California."
"They knew. They knew everything within hours of the attack," Hannity said. So when is the media going to call them out on it? He then rolled a series of clips of reactions by officials that included remarks about the anti-Islam video.
To the media's credit, Coulter said, most have been doing a pretty good job covering the recent story about the emails from that night. She and Hannity agreed that the White House knew what was happening and indeed saw it in real time.
The pair then segued into a less serious topic: Donald Trump and his $5 million offer to the president. "President Obama can redistribute Donald Trump's money," Hannity said. "Why wouldn't the president do this?"
Coulter, too, said she supported Trump and his offer — particularly because of the recent attempt to unseal the testimony Romney is said to have given in the Staples founder's divorce case. "It's irrelevant and stupid," she said. "And so we need somebody like Donald Trump on our side."
Take a look, via Fox News:

Have a tip we should know? tips@mediaite.com